LTC honors students, community leaders at awards banquet
FOR IMMEDIATE RELEASE
5/22/2013
CLEVELAND, WI —
Lakeshore Technical College recognized 57 students for their achievements in and out of the classroom on May 3 during the college's 42nd Annual Awards Banquet. Highlighting the evening was the announcement of the LTC 2013 Alumnus of the Year and 2013 Educational Leadership award winners.
Randy Roethel, owner and financial consultant with Principal Financial Group, was named Alumnus of the Year. This award is given annually to a Lakeshore Technical College graduate who has demonstrated outstanding achievement in his or her career or profession, provided service to the community, and demonstrated loyalty to the college.
A 1981 graduate of LTC's Materials Management program, Roethel has been self-employed since 1982, celebrating his 30th year in business in October of 2012. He specializes in investments, tax planning and retirement issues. Randy holds his Chartered Life Underwriter (CLU) and Chartered Financial Consultant (ChFC) designations. Randy has been recognized with numerous awards over his years in the industry, most notably being inducted into the Principal Hall of Fame in 2004. He also received the Lifetime Achievement Award from Princor Financial Services Corporation in 2008.
Roethel credits his LTC education for his success and has demonstrated his belief in LTC through funding a scholarship through the LTC Foundation. The Randall J Roethel LTC scholarship is available to Oostburg High School Seniors interested in Machine Tool, Welding, Electro-Mechanical, Industrial Maintenance or Supply Chain programs at LTC. Randy serves his community as a longtime member of the Oostburg and Sheboygan Jaycees and is also a member of the Sheboygan Rotary Club.
Receiving the college's Educational Leadership award was Dr. Suzanne Martens, Faculty, EMS & Trauma Program Medical Director at St. Nicholas Hospital in Sheboygan. The award is presented annually to an individual who exhibits outstanding service above self in building an educational foundation to help others become their personal best.
Martens has been a champion of education for LTC and the region, providing technical guidance and expertise by serving as the EMS Program's medical advisor, adjunct instructor and advisory committee member here at LTC. She has long been involved in education, teaching at colleges since 1996. Martens plays an instrumental role in ensuring the success of LTC students and the future workforce trained through LTC's EMS Program.
Dr. Martens has made a significant commitment to Emergency Medical Services at both the state and local level. She attends a large number of County EMS Association meetings and works to better serve those organizations with her vast knowledge and experience. She also serves as the physician medical director or co director for 19 local ambulance services, first responder units, or fire departments. Dr. Martens tirelessly gives her time to help improve the capabilities of these organizations to better serve the citizens of Sheboygan County.
Student awards were also presented at the banquet and recognized program excellence and club involvement. Winners are listed below by their Wisconsin hometown.
Cascade
Thomas Strahl, Automotive Maintenance Technician program
Cato
Christine Ranke, Accounting program
Cleveland
Anthony Kelm, Nuclear Technology Club; Trenton Genke, Student Government Association Leadership; Dianne Philipsen, Dairy Herd Management program
Elkhart Lake
Hayleigh Buechel, LTC SHRM Student Chapter
Glenbeulah
Alan Michaels, Electro-Mechanical Technology Program, All-USA Community College Academic Team and 2013 Coca Cola Bronze Scholar; Brian Schuknecht, Supervisory Management program
Howards Grove
Jayson Carmody, Mechanical Design Technology program; Steven Faust, Nuclear Technology program; Kyle Froh, Sustainable Landscape Horticulture program; Alyssa Young, WTCS State Ambassador
Kenosha
Shane Mattner, Student Government Association Leadership
Manitowoc
Rebecca Hinds, Medical Assistant Club; Jamie Lee, Human Resource Administration program; Michael Nelson, All-USA Community College Academic Team; Christina Sanders, Human Resource Administration program and Phi Kappa Theta Honor Society; Justin Tharaldson, Mechanical Design Club and Student Impact Club
Oostburg
Sally Willoughby, Nursing-Associate Degree program
Plymouth
Stacy Hein, Accounting program; Florence Kempf, Auto Collision Repair & Refinish program; Eileen Kerwin, Administrative Professional program; Josephine Van Ess, Student Government Leadership; Suzy Yang, Ophthalmic Medical Assistant program
Random Lake
Brian Lawrenz, Industrial Maintenance program
Ripon
Brian Ludjack, Wind Energy Technology program
Saint Nazianz
Theodore Wagner, Nuclear Technology program
Sheboygan
Matthew Antes, WTCS State Ambassador; Amy Binsfeld, Paralegal program; Julie Bruinooge, Medical Administrative Specialist and Transcriptionist program; George Claypool, Mechanical Design Technology program; David Cook, Graphic and Web Design program; Sara Dolezal, Business Management program; Steven Ellinger, IT-Web and Software Developer program; Nicole Gaus, Hospitality Club; Daniel Graves, Supply Chain Management program; Starr Gerk, MAST Club; Shane Jackett, Information Technology (IT) Club; Cameron Kress, IT-Web and Software Developer program; Jason Kunde, IT-Computer Support Specialist program; Andrés Mendoza, Marketing program; Aaron Meyers, Auto Collision Club; TinaMarie Olig, Lakeshore Chapter of the Student Nurses Association (LCSNA); Ryan Rabe, Business Management program; Matthew Resop, Nursing-Associate Degree program; Kenneth Schultz, Horticulture Club; Julie Thomas, Jack Keating Student Civic Leadership Award; Jenny Wensink, Medical Assistant Program
Sheboygan Falls
Tyler Fischer, Criminal Justice Student Association; Keena Gregoire, Supply Chain Management Club; Daniel Leitzke, IT-Network Specialist program
Two Rivers
Susan Gilbert, Hotel and Hospitality Management program; Amy Katzka, Medical Administrative Specialist and Transcriptionist program; Rowland Laurin, Auto Collision Repair and Refinish program; Tad Rauber, Quality Assurance Technician program
Valders
Nathan Barnes, Criminal Justice-Law Enforcement program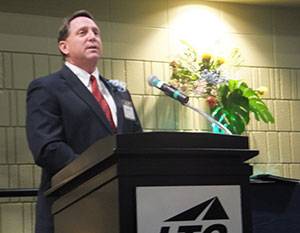 About Lakeshore Technical College
Each year more than 10,000 people enroll in courses at Lakeshore Technical College. They rely on LTC for job preparation, to earn a degree, upgrade a specialized skill, train as an apprentice, or seek a high school equivalency. LTC faculty and staff meet students where they are in life and help them get one step closer to achieving their goals.
LTC is a nationally recognized technical college. The college was ranked the #2 two-year college in the nation for adult learners by Washington Monthly, the #17 trade school in the nation by Forbes, #11 in the nation for two-year college educational outcomes by WalletHub.com, a top-150 two-year college for the fifth consecutive time by the Aspen Institute, and a top 10 Bellwether Award finalist.
Approximately 800 students graduate from LTC each year, and LTC's associate degree graduates earn a median salary of $47,800* per year. In addition to the Cleveland campus, LTC serves students in Manitowoc and Sheboygan, and offers classes at additional sites throughout the district. Visit LTC at gotoltc.edu.
*Source: 2019 LTC Graduate Outcomes report, 795 graduates contacted to complete the survey; 508 graduates or 64% completed the survey.