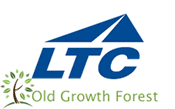 The 25-acre LTC Old Growth Forest has evolved over more than 10,000 years without recent significant intervention. The forest is home to an abundance of spring-blooming plants, various forms of animal life, and pioneer and climax tree species — some more than 300 years old — stemming from two distinct floristic provinces. It is estimated that only about 1 percent of Wisconsin's old growth forests remain intact.
In 2011, LTC's Old Growth Forest was designated by the Wisconsin Department of Natural Resources as a State Natural Area. Learn more about the designation.
A three-segment trail within the forest is open to the public, and points of interest along the way are marked with signage. Guidebooks are available at LTC at the entrance to the south trail or may be downloaded here.