Sheboygan Area Youth Apprenticeship is truly changing lives. Youth apprentices and mentors can't wait to share their experiences with you.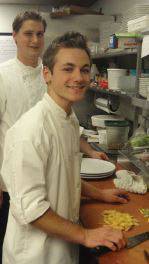 "This program has allowed me to gain experience I wouldn't be getting in a classroom. This experience is allowing me to find out who I am as an individual and helping me realize what career I want to pursue."
"I benefited from the Youth Apprenticeship program in more ways than I ever imagined! The interview and accepting process, on-the-job training, and working environment were extremely helpful to me. I learned more working in the nursing home than I have at any other job. The memories and friends I have made in the past year will stay with me forever!"
"Youth Apprenticeship provided me with employment that is real experience in my field of interest. Additionally, Youth Apprenticeship has allowed me to take college classes without having to pay for them which has helped me get a jump start on furthering my education."