100% of Seniors at Random Lake High School Accepted to Lakeshore Technical College
FOR IMMEDIATE RELEASE
5/06/2022
CLEVELAND, WI —
The entire student body at Random Lake High School gathered to hear the news all 53 seniors have been accepted into college – Lakeshore Technical College, to be specific. Upon completing their high school requirements, all the seniors will be eligible to enroll in summer and fall classes.
This is the second year every Random Lake High School student has been admitted to Lakeshore, which is the result of combined efforts between the high school and college to remove barriers to students and lift awareness among them that they all have access to affordable higher education. Lakeshore is a nationally recognized college that eliminated application fees and placement tests to help make college more accessible and affordable. 
"This is a win for the seniors of Random Lake High School, a win for the Village of Random Lake, and a win for the broader Lakeshore community," said Lakeshore President Dr. Paul Carlsen. "We thank Dr. Mike Trimberger for his vision and leadership role in making this happen two years in a row."
"The School District of Random Lake has a laser focus on giving our graduates a distinct advantage and our partnership with LTC is another prime example. For the second year in a row, we are proud to be one of the few schools able to boast that 100% of our graduates are college-eligible," said District Administrator Dr. Mike Trimberger. "We look forward to continuing to grow this relationship, especially as Lakeshore Technical College begins offering the Associate of Arts and Associate of Science degrees next fall and more students start their baccalaureate journey at the college."
Three students are already set to attend Lakeshore. Abigail Scholler is enrolled to start in the digital marketing program this summer. Calah Hater and Alexa Beck are enrolled to start in the radiography program in fall.  
Lakeshore offers over 70 career opportunities taking between a few months and two years to complete. The median salary for an associate degree graduate within one year of graduating is $54,048. 
Details about all Lakeshore's programs can be found at gotoltc.edu/programs-and-courses/degree-programs.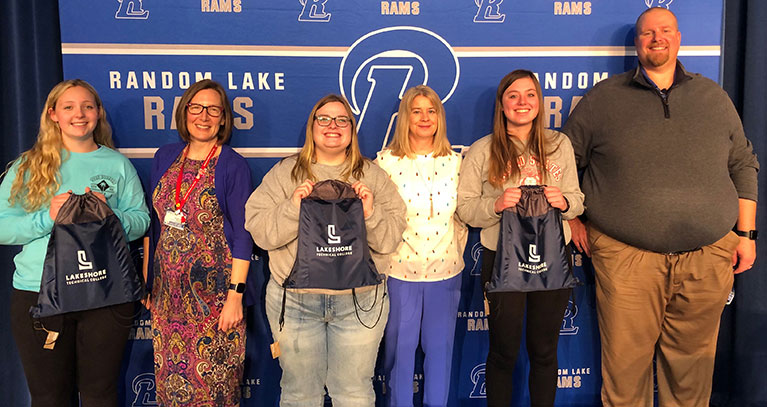 Random Lake High School student Calah Hater, counselor Julie Hausner, student Alexa Beck, principal Susan McDonald, student Abigail Scholler, and district administrator Dr. Mike Trimberger celebrated the announcement that all Random Lake seniors were accepted to Lakeshore Technical College. The three students are on their way to studying radiography and digital marketing.
About Lakeshore Technical College
Each year more than 8,000 people enroll in courses at Lakeshore Technical College. They rely on Lakeshore for job preparation, to earn a degree, upgrade a specialized skill, train as an apprentice, or seek a high school equivalency. Lakeshore faculty and staff meet students where they are in life and help them get one step closer to achieving their goals. 
Lakeshore Technical College is a nationally recognized technical college. The college was ranked the #2 two-year college in the nation for adult learners by Washington Monthly, #20 in the nation for two-year college educational outcomes by WalletHub.com, a top-150 two-year college by the Aspen Institute, a top 10 Bellwether Award finalist three out of the last four years, and the 2021 Large Business/Industry of the Year by the Chamber of Manitowoc County.
Approximately 800 students graduate from Lakeshore Technical College each year, and associate degree graduates earn a median salary of $54,048 per year. In addition to the Cleveland campus, Lakeshore serves students in Manitowoc and Sheboygan, and offers classes at additional sites throughout the district. Visit Lakeshore at gotoltc.edu gotoltc.edu.