Lakeshore Technical College: An American Welding Society Accredited Test Facility

If you're looking for a welding test facility accredited by the American Welding Society (AWS), you're in the right place. Lakeshore Technical College welcomes you and your company's welders to our state-of-the-art KOHLER Center for Manufacturing Excellence to obtain welder certification.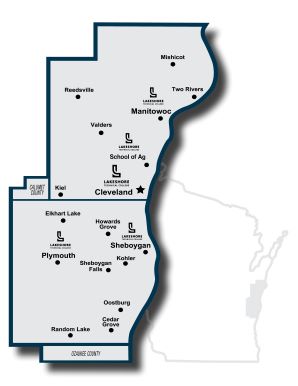 The AWS is recognized worldwide as the leader in certification programs for the welding industry. AWS certification also allows welders to carry their certification with them globally.
Our test facility is easy to find, right off Interstate 43 between Milwaukee and Green Bay, Wisconsin. We are in Cleveland, which is only:
1 hour from Green Bay                  2 hours from Madison
1 ¼ hours from Milwaukee           2 ½ hours from Chicago
1 ¼ hours from Appleton              2 ½ hours from Wausau
1 ½ hours from Sturgeon Bay      5 ½ hours from Minneapolis
If you have questions about testing capabilities, materials, or pricing, or would like to schedule a test, please contact us at:
aws@gotoltc.edu or 920.693.1746
Testing Details
All tests are administered by an AWS Weld Test Supervisor. Learn about our testing team below.
We can test to any code in all positions, on plate or pipe.
We can help with development of:


WPS (Welding Procedure Specifications)
PQR (Procedure Qualification Records)
WQT/WPQR (Welder Qualification Test/Welder Performance Qualification Records)

Testing takes place Monday through Friday at our Cleveland campus, or by special appointment.
Additional lead time may be needed for testing on certain material types for shapes and thicknesses that we do not have in stock.
On-site facilitation of weld testing can be arranged.
Testing Codes
Each weld test will follow the proper AWS or ASME Code. Employers and individuals with testing aspirations that don't meet the B2.1 standards may submit a copy of their Welding Procedure Specification to an LTC Weld Test Supervisor for review at aws@gotoltc.edu.
Lakeshore Technical College holds the AWS Lakeshore Section Library. Within the library, there are many alternative Standard Welding Procedure Specifications to choose from. These can be reviewed by appointment with an LTC Test Supervisor.
Lakeshore's Expert Testing Team
Technical Manager/Facility Representative/Welding Program Coordinator  
Dave Saunders: 35 years welding experience, 21 years as an instructor
AWS CWE; Certified Welder in SMAW and FCAW Welding process; Wisconsin WTC; Level 1 UT Technician.7
 
Test Supervisors  
Jeremy Dekker: 17 years welding experience, 8 years as an instructor
AWS CWE; AWS CWI; Certified Welder in SMAW and FCAW Welding process; ASNT Level 1 UT; ASNT Level 2 VT.
Brian Strebe: 27 years welding experience, 17 as an instructor
AWS CWE; AWS CWI; Wisconsin WTC; Level 1 UT technician.
CWE: Certified Welding Educator
CWI: Certified Welding Inspector
WTC: Weld Test Conductor
UT: Ultrasonic Testing  
CONTACT US
If you have questions about testing capabilities, materials, or pricing, or would like to schedule a test, please contact us at:
aws@gotoltc.edu or 920.693.1746