40 Under 40 List Includes Lakeshore Technical College President Paul Carlsen
FOR IMMEDIATE RELEASE
3/17/2023
CLEVELAND, WI —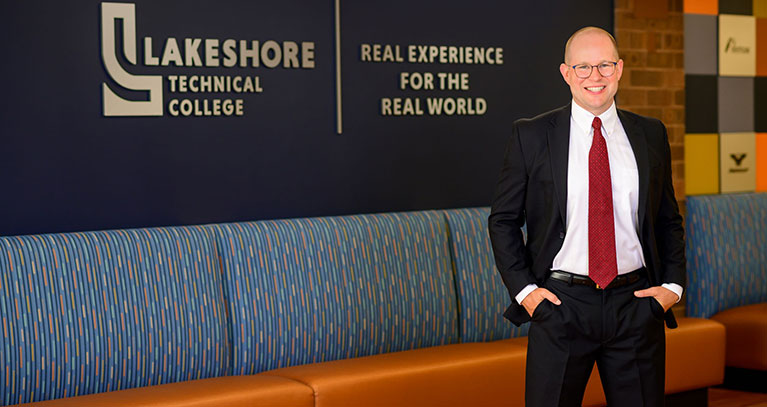 A new "40 Under 40" awards program has announced the inclusion of Lakeshore Technical College President Dr. Paul Carlsen. Individuals named to the list have been identified by Insight Publications as the top 40 professionals in the New North region.
Carlsen was chosen for his outstanding service and leadership in both the workplace and community. He will be honored at a May 31 ceremony and recognized in the June issue of Insight magazine.
According to Carlsen's nomination, under his leadership Lakeshore has gained national recognition by organizations including Forbes, Washington Monthly, the Aspen Institute, and Bellwether Consortium. Among his most significant achievements are the results of his focus on prioritizing new revenue sources to support the college's mission. Since joining Lakeshore, the college has secured over $23 million in competitive grants, including its first three grants from the National Science Foundation and the three largest awards in the college's history.
Carlsen is active in the New North region through his involvement with New North, Northeast Wisconsin Educational Resource Alliance, Bay Area Workforce Development Board, Sheboygan County Economic Development Corporation, HSHS St. Nicholas Hospital Advisory Board, and Kohler School District Board of Education.
About Lakeshore Technical College
Each year more than 8,000 people enroll in courses at Lakeshore Technical College. They rely on Lakeshore for job preparation, to earn a degree, upgrade a specialized skill, train as an apprentice, or seek a high school equivalency. Lakeshore faculty and staff meet students where they are in life and help them get one step closer to achieving their goals. 
Lakeshore Technical College is a nationally recognized technical college. The college was ranked the #2 two-year college in the nation for adult learners by Washington Monthly, #4 in the nation for two-year college educational outcomes by WalletHub.com, a top-150 two-year college by the Aspen Institute, a top 10 Bellwether Award finalist three out of the last four years, and the 2021 Large Business/Industry of the Year by the Chamber of Manitowoc County.
Approximately 800 students graduate from Lakeshore Technical College each year, and associate degree graduates earn a median salary of $54,048 per year. In addition to the Cleveland campus, Lakeshore serves students in Manitowoc and Sheboygan, and offers classes at additional sites throughout the district. Visit Lakeshore at gotoltc.edu.