Agriculture Students Perform Well at Midwest Dairy Challenge Competition
FOR IMMEDIATE RELEASE
2/25/2022
CLEVELAND, WI —
Members of Lakeshore Technical College's Professional Agricultural Student (PAS) organization participated in the 18th annual Midwest Regional Intercollegiate Dairy Challenge Competition held in Fort Wayne, Indiana February 16-18. The event was co-hosted by Michigan State University, Purdue University, and Ohio State University.
Twenty-three teams from two-year and four-year colleges competed. LTC's teams placed third and fifth.
"It is satisfying to see our students succeed in this highly-competitive, 'deep dive' type learning experience," said LTC Dairy/Agribusiness Instructor Craig Lallensack. "When we get back to campus, we see our students thrive with a fuller understanding of their program areas."
The team placing third consisted of Lily Charapata, Elizabeth Benicke, Zoe Ertel, and Kaylee Pingel.
The team placing fifth consisted of Kelsie Bramstedt, Brendan Wenzel, Alex Diersen, and Trey Hafkey.
The Midwest Intercollegiate Dairy Challenge is an event hosted by the dairy industry for students to work as consulting teams while exploring a real dairy operation from all angles. Local farms provide a variety of records and mentors guide the students through the process of looking for trends within the farm operations. Teams present their findings and recommendations to a panel of judges who question them and provide feedback.
PAS is a student-led organization that allows students to build and sharpen their skills so they are ready for the workforce. The students are enrolled in a variety of agriculture related programs including agribusiness science and technology, dairy business management, and dairy herd management.
For information about Lakeshore's agriculture related programs, visit gotoltc.edu/programs-and-courses/degree-programs.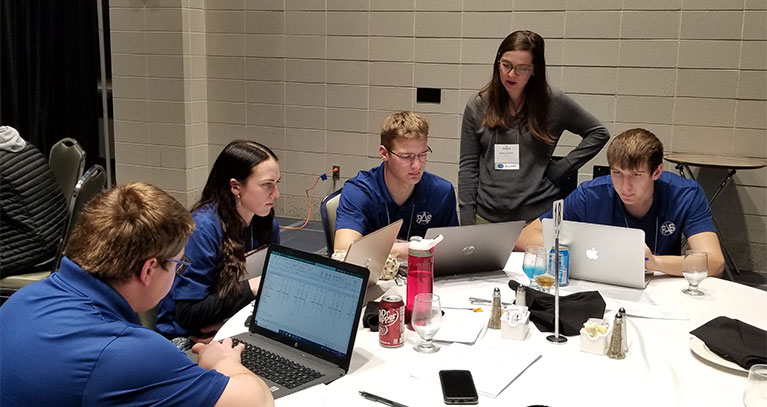 Lakeshore Technical College students Alex Diersen, Kelsie Bramstedt, Brenden Wenzel and Trey Hafkey (seated) receive feedback from their assigned mentor (standing) during the Midwest Regional Intercollegiate Dairy Challenge Competition.
About Lakeshore Technical College
Each year nearly 10,000 people enroll in courses at Lakeshore Technical College. They rely on LTC for job preparation, to earn a degree, upgrade a specialized skill, train as an apprentice, or seek a high school equivalency. LTC faculty and staff meet students where they are in life and help them get one step closer to achieving their goals. 
LTC is a nationally recognized technical college. The college was ranked the #2 two-year college in the nation for adult learners by Washington Monthly, #20 in the nation for two-year college educational outcomes by WalletHub.com, a top-150 two-year college by the Aspen Institute, and a top 10 Bellwether Award finalist for the third time in four years. 
Approximately 800 students graduate from LTC each year, and LTC's associate degree graduates earn a median salary of $52,000 per year. In addition to the Cleveland campus, LTC serves students in Manitowoc and Sheboygan, and offers classes at additional sites throughout the district. Visit LTC at gotoltc.edu.