Child Care Center Expands for Students' School Age Children at Lakeshore Technical College
FOR IMMEDIATE RELEASE
8/21/2020
CLEVELAND, WI —
To address the growing concern Lakeshore Technical College (LTC) is reporting among its students who are parents of school age children, it has received state approval to expand capacity at its on-site Child Care Center starting Monday, August 24. This new accommodation provides drop-in care for children ages 7-12 so their parents can continue attending classes on campus if their child's school is closed.
"We are pleased to provide this convenient option to our students with young children in school. It allows our students to continue attending classes on campus, knowing their children are being cared for in a safe environment," said Dr. Chris Schatz, dean of LTC's health and human services division. "So many of our students are juggling work and family while attending LTC, and do not need additional obstacles preventing them from pursuing a better life through education."
Students will need to call Denise Schroeder, the Child Care Center manager, at 920.693.1243 before dropping children off at the Child Care Center. Children must be picked up from the Child Care Center when the student's scheduled in-person class and/or lab has ended.
The LTC Child Care Center's traditional services for children 2-6 years old will continue to be available to LTC students and employees. These services also serve as an educational tool for students enrolled in its early childhood education program.
Details can be found at gotoltc.edu/drop-in.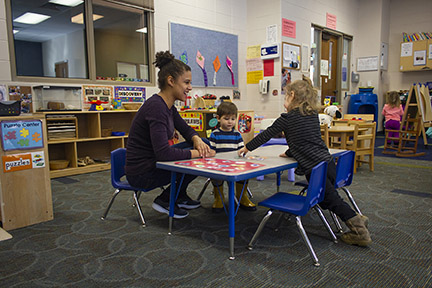 About Lakeshore Technical College
Each year more than 10,000 people enroll in courses at Lakeshore Technical College. They rely on LTC for job preparation, to earn a degree, upgrade a specialized skill, train as an apprentice, or seek a high school equivalency. LTC faculty and staff meet students where they are in life and help them get one step closer to achieving their goals.
LTC is a nationally recognized technical college. The college was ranked the #2 two-year college in the nation for adult learners by Washington Monthly, #11 in the nation for two-year college educational outcomes by WalletHub.com, a top-150 two-year college for the fifth consecutive time by the Aspen Institute, and a top 10 Bellwether Award finalist for two consecutive years.
Approximately 800 students graduate from LTC each year, and LTC's associate degree graduates earn a median salary of $42,000 per year. In addition to the Cleveland campus, LTC serves students in Manitowoc and Sheboygan, and offers classes at additional sites throughout the district. Visit LTC at gotoltc.edu.