Digital Badges Launch at Lakeshore Technical College
FOR IMMEDIATE RELEASE
1/29/2021
CLEVELAND, WI —
In addition to earning associate degrees, technical diplomas, and certificates at Lakeshore Technical College, learners can now earn digital badges in a growing number of skills.
Digital badges, also referred to as e-badges, offer those learning various skills and achieving professional accomplishments the opportunity to visually communicate their validated credentials in a digital format. Badges are typically displayed on social media platforms and in email signatures.
Badges earned while learning at Lakeshore are issued at no cost through its badging partner, Credly/Acclaim. Credly/Acclaim, a leader in the digital credentialing movement, verifies the achievement as well as the process required to reach it, before issuing the badge to a learner.
Badges benefit learners by showing potential employers validated skills and accomplishments. Learners can also access labor market insights related to their badges. Badges may be earned while working toward a degree, or through professional or personal development. For example, someone completing the requirements to earn a digital badge in Microsoft Excel can display that badge and search for employers looking for someone with that expertise.
By clicking on a badge, anyone, from employers and colleagues to prospective and current clients, can learn specifics about the process required to earn a badge, as well as efficiently validate its source. Employers can also search for potential employees who have earned specific badges.
"We are excited to be on the forefront of offering digital badges in our community," said Lakeshore Vice President of Strategy and Outreach Tanya Wasmer. "As we grow our badge program, more students will be able to communicate their expertise digitally, and employers will be able to efficiently identify individuals with the skillsets they are seeking to fill gaps in their workforces."
Lakeshore plans to add badges for additional skills and accomplishments in an ongoing manner. Examples of badges currently available include Microsoft Excel, ServSafe® Food Manager, American Heart Association Basic Life Support, and OSHA 10-Hour General Industry. Employers interested in having a badge developed for a specific skill are welcome to contact Lakeshore.
For details, visit gotoltc.edu/digital-badges.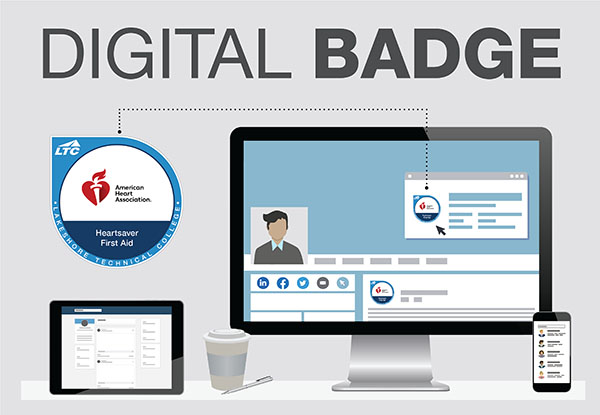 About Lakeshore Technical College
Each year more than 10,000 people enroll in courses at Lakeshore Technical College. They rely on LTC for job preparation, to earn a degree, upgrade a specialized skill, train as an apprentice, or seek a high school equivalency. LTC faculty and staff meet students where they are in life and help them get one step closer to achieving their goals.
LTC is a nationally recognized technical college. The college was ranked the #2 two-year college in the nation for adult learners by Washington Monthly, #20 in the nation for two-year college educational outcomes by WalletHub.com, a top-150 two-year college for the fifth consecutive time by the Aspen Institute, and a top 10 Bellwether Award finalist for two consecutive years.
Approximately 800 students graduate from LTC each year, and LTC's associate degree graduates earn a median salary of $42,000 per year. In addition to the Cleveland campus, LTC serves students in Manitowoc and Sheboygan, and offers classes at additional sites throughout the district. Visit LTC at gotoltc.edu.