Eligible Student-Parents at Lakeshore Technical College to Benefit from Child Care Grant
FOR IMMEDIATE RELEASE
10/20/2020
CLEVELAND, WI —
Lakeshore Technical College (LTC) has been awarded a competitive Child Care Access Means Parents In School (CCAMPIS) program grant to support student-parents who are facing obstacles to successful program completion. The four-year $30,000 grant will support child care fee assistance, holistic support for child care selection, CCAMPIS case coordination for recipients, and funding for educational and family enrichment activities.
In awarding the grant, the U.S. Department of Education acknowledged the financial and child care obstacles many LTC students are facing during the COVID-19 pandemic. The college reports 41 percent of its students are parents, with 88 percent of those students working part-time.
The grant allows LTC to use a sliding fee scale based on need and degree completion time. Up to 10 qualifying student-parents will be assisted annually. Recipients may secure care at Lakeshore's on-site child care center or, due to the center being full, at other high quality third-party child care programs.
LTC offers students on-site child care at its Cleveland campus for children ages 2 to 6. In August, the college received approval to offer drop-in care for children ages 7 to 12. COVID-19 has significantly impacted the interest in the on-site child care among student-parents.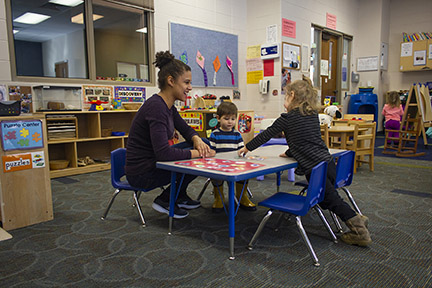 About Lakeshore Technical College
Each year more than 10,000 people enroll in courses at Lakeshore Technical College. They rely on LTC for job preparation, to earn a degree, upgrade a specialized skill, train as an apprentice, or seek a high school equivalency. LTC faculty and staff meet students where they are in life and help them get one step closer to achieving their goals.
LTC is a nationally recognized technical college. The college was ranked the #2 two-year college in the nation for adult learners by Washington Monthly, #20 in the nation for two-year college educational outcomes by WalletHub.com, a top-150 two-year college for the fifth consecutive time by the Aspen Institute, and a top 10 Bellwether Award finalist for two consecutive years.
Approximately 800 students graduate from LTC each year, and LTC's associate degree graduates earn a median salary of $42,000 per year. In addition to the Cleveland campus, LTC serves students in Manitowoc and Sheboygan, and offers classes at additional sites throughout the district. Visit LTC at gotoltc.edu.