The Current Students webpage is moving and will only be accessible through MyLAKESHORE effective October 2nd. Look for the Current Students tile, which will be the new hub for academic, financial, career, and personal resources. It will also include upcoming events, important college due dates such as payment and registration dates, and student involvement opportunities. 

Here to Help: Resources to Help You Succeed at Lakeshore

Academic Resources

Paying for College

Personal Support

Student Involvement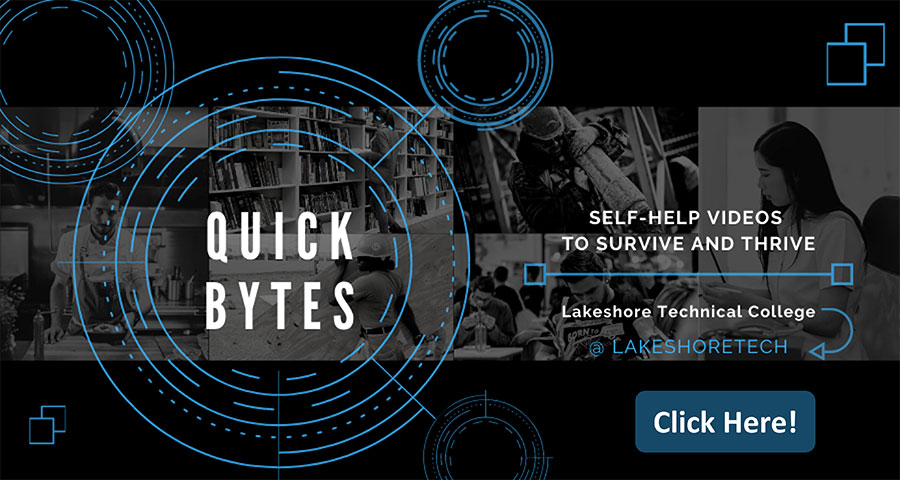 Report a Student Concern-Complaint
Lakeshore Technical College provides opportunities for students to file concerns and/or complaints. The College will address and process submissions in a timely manner, according to defined procedures. Submissions will be reviewed during normal business hours. Submissions are not monitored after hours, on weekends, or during official college holidays. Please refer to the Student Handbook for more details regarding concerns and complaints.
Distance Education Conducted Across State Lines
Lakeshore Technical College participates in the National Council for State Authorization Reciprocity Agreement (NC-SARA). As a member of NC-SARA, any current or former student of a distance education program offered by Lakeshore Technical College may file a complaint with Wisconsin's Distance Learning Authorization Board (DLAB) for Lakeshore Technical College distance education activity conducted across state lines under specific and limited circumstances. For more information on the types of complaints handled by DLAB, steps to be taken before filing a complaint with DLAB, and the process to file a complaint with the DLAB, see DLAB's student complaint process - http://www.heab.state.wi.us/dlab/students.html