Lakeshore Technical College Employee Surprises Her Mother by Conferring Her Degree
FOR IMMEDIATE RELEASE
12/22/2021
CLEVELAND, WI —
An unexpected, special mother-daughter moment took place during the fall graduation event at Lakeshore Technical College on December 18. As LTC's Financial Aid Specialist Mariana GarciaCarle prepared to watch her mother walk across the stage and receive her diploma, LTC Vice President of Student Success Polly Abts noticed her and asked if she would like to confer her mother's degree. The answer was "Yes!"
"I cried, it was such a surprise to see my daughter hand me my diploma," said Miriam Garcia. "I did not expect it and it was so special."
The opportunity to confer her mother's degree was also a surprise to GarciaCarle. "Polly saw me at the last minute and asked if I would like to go on stage, hand my mom her diploma, and confer her degree. It was so emotional," she said. 
"Graduation is not exclusively about celebrating graduates. It is also about celebrating their family and friends who helped them along the way. All graduations are special, though when something like this can occur for a family, it makes our celebration even more special," said LTC President Dr. Paul Carlsen.
Garcia graduated from LTC's human resources assistant program. She worked as a housekeeper for many years and after raising her children, decided it was time to make a job change. A visit to LTC's Manitowoc campus led her to discussions with advisors and a career assessment, which showed she would be well suited for a career in human resources. 
"I have always liked helping people so going into human resources made sense," said Garcia, who started at LTC in spring 2020. She was determined to complete her degree despite the many challenges she faced, including the pandemic, caring for her grandson, and starting her own cleaning business. She says she looks back now and realizes how busy she was, though she was very happy helping her family out. 
For more information about LTC's human resources assistant program, which has start dates in January and August, visit gotoltc.edu/programs-and-courses/degree-programs.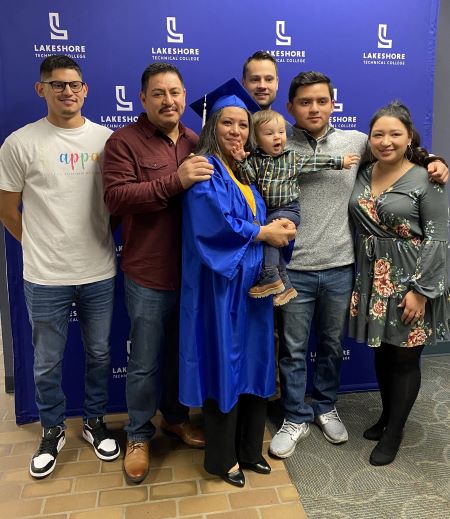 About Lakeshore Technical College
Each year more than 10,000 people enroll in courses at Lakeshore Technical College. They rely on LTC for job preparation, to earn a degree, upgrade a specialized skill, train as an apprentice, or seek a high school equivalency. LTC faculty and staff meet students where they are in life and help them get one step closer to achieving their goals.
LTC is a nationally recognized technical college. The college was ranked the #2 two-year college in the nation for adult learners by Washington Monthly, #20 in the nation for two-year college educational outcomes by WalletHub.com, a top-150 two-year college for the fifth consecutive time by the Aspen Institute, and a top 10 Bellwether Award finalist for two consecutive years.
Approximately 800 students graduate from LTC each year, and LTC's associate degree graduates earn a median salary of $52,000 per year. In addition to the Cleveland campus, LTC serves students in Manitowoc and Sheboygan, and offers classes at additional sites throughout the district. Visit LTC at gotoltc.edu.