Lakeshore Technical College Partners with Hmong Mutual Assistance Association
FOR IMMEDIATE RELEASE
3/27/2023
CLEVELAND, WI —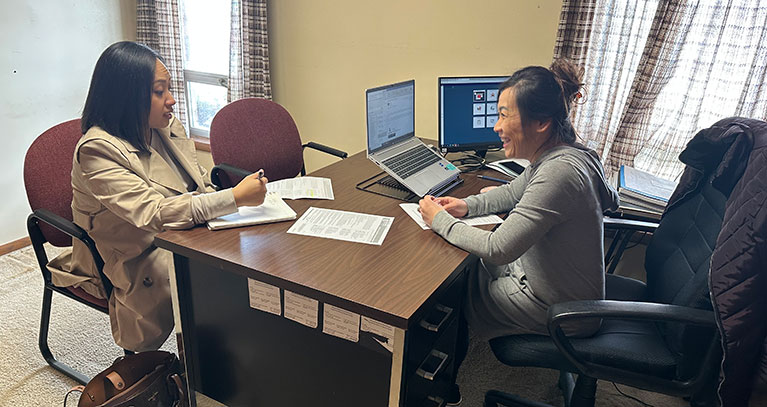 Amy Moua visits with Choua Lee, program counselor with Lakeshore Technical College, to discuss returning to Lakeshore to complete her health information management degree. Lee is available at the Hmong Mutual Assistance Association of Sheboygan on Wednesdays.
In an effort aiming to provide additional support to underrepresented student groups, Lakeshore Technical College is partnering with the Hmong Mutual Assistance Association of Sheboygan by providing on-site staffing at the association's 2304 Superior Ave. location.
"By placing a program counselor on site, we are able to provide accessible academic planning and connection to student support services that can keep students on track to degree completion," says Lakeshore Executive Director of Program Counseling and Student Resources Foua Hang.
The partnership also helps HMAAS provide educational programming that promotes post-secondary education.
"With having LTC here at the Hmong Mutual Assistance Association of Sheboygan, we are able to provide another service to the community. HMAAS and LTC together are helping students explore, begin, or continue their higher education," says Moua Yang, HMAAS board president.
Lakeshore Program Counselor and Sheboygan resident Choua Lee began holding office hours at HMAAS in January. Lee is fluent in both Hmong and English. She works with individuals enrolled in high-demand health and human services related programs including nursing assistant, early childhood education, dental assistant, and medical coder. 
Lee is available at HMAAS by appointment 8 a.m.-3 p.m. on Wednesdays with drop-ins welcome 3-4:30 p.m. Wednesdays. She can be reached at 920-693-1237 or choua.lee@gotoltc.edu.
Census data for Sheboygan County shows 7,200 Asian American and Pacific Islander residents, with the largest group among them from the Hmong community. According to Lakeshore, the college currently serves 646 Asian American and Pacific Islander students. Almost 300 are undergraduate students living in Sheboygan County. 
 
About Lakeshore Technical College
Each year more than 8,000 people enroll in courses at Lakeshore Technical College. They rely on Lakeshore for job preparation, to earn a degree, upgrade a specialized skill, train as an apprentice, or seek a high school equivalency. Lakeshore faculty and staff meet students where they are in life and help them get one step closer to achieving their goals. 
Lakeshore Technical College is a nationally recognized technical college. The college was ranked the #2 two-year college in the nation for adult learners by Washington Monthly, #4 in the nation for two-year college educational outcomes by WalletHub.com, a top-150 two-year college by the Aspen Institute, a top 10 Bellwether Award finalist three out of the last four years, and the 2021 Large Business/Industry of the Year by the Chamber of Manitowoc County.
Approximately 800 students graduate from Lakeshore Technical College each year, and associate degree graduates earn a median salary of $54,048 per year. In addition to the Cleveland campus, Lakeshore serves students in Manitowoc and Sheboygan, and offers classes at additional sites throughout the district. Visit Lakeshore at gotoltc.edu.