Lakeshore Technical College Saves Students Over $2M by Embracing Open Educational Resources
FOR IMMEDIATE RELEASE
9/28/2023
CLEVELAND, WI —
With the average college textbook costing around $105, according to Education Data Initiative, students can spend hundreds of dollars every semester. However, students at Lakeshore Technical College have been saving money —$2.1 million since 2018—thanks to the college making open educational resources available.
Open educational resources include free online textbooks, videos, and other learning tools that reside in the public domain. Rather than renting or purchasing textbooks, students download materials to their electronic devices. The college library also offers hard copies of the materials for checkout.
"Access to open educational resources is valuable to our students not only for the cost savings but also because these resources tend to be timelier and more relevant to industry than textbooks from the traditional ivory tower," said Lakeshore President Dr. Paul Carlsen.
Instructors for more than 180 Lakeshore courses have eliminated textbook costs by adopting open educational resources. In addition to saving students money, the resources provide more equitable access to course materials. All students can access materials on the first day of class since they do not need to wait for bookstore shipments or financial aid awards. 
More information on Lakeshore Technical College can be found at gotoltc.edu.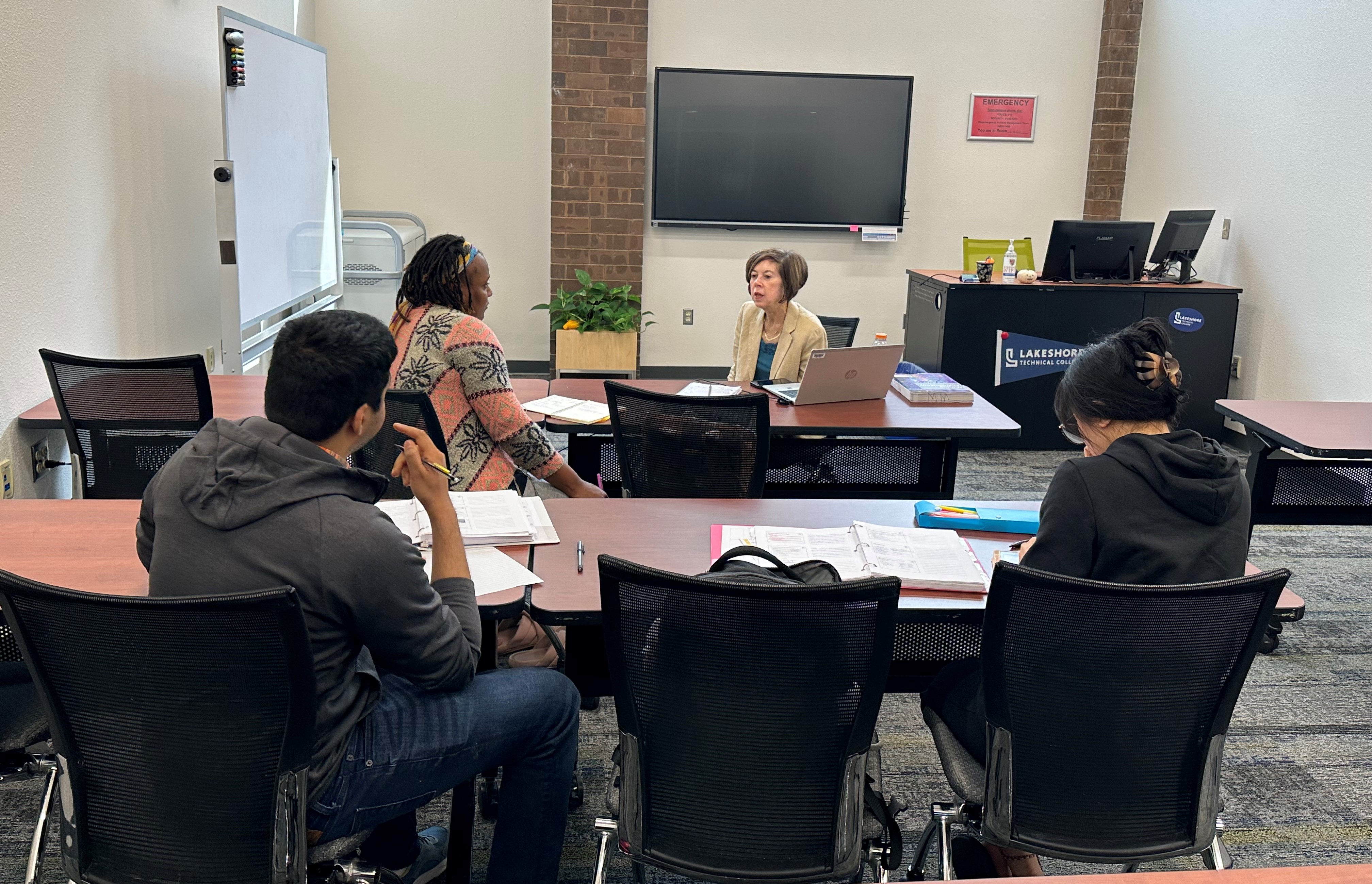 More than 180 Lakeshore Technical College courses allow students to use free open educational resources instead of buying textbooks. The resources are also used during study sessions, such as this nursing pharmacology tutoring session.
About Lakeshore Technical College
Lakeshore Technical College is a comprehensive community and technical college educating more than 9,000 students annually. Students enroll at Lakeshore to master real-world, employable career skills and start their pursuit of a bachelor's degree. Lakeshore faculty and staff are focused on providing each student an individualized learning experience.
 
Lakeshore Technical College is a nationally recognized two-year college. The college was ranked #2 in the nation by Washington Monthly, #17 in the nation by Forbes, #20 in the nation by WalletHub.com, a top-150 two-year college by the Aspen Institute, a top 10 Bellwether Award finalist four out of the last five years, and named the 2021 Large Business/Industry of the Year by the Chamber of Manitowoc County.
 
Approximately 800 students graduate from Lakeshore each year, and associate degree graduates report earning a median salary of $59,899 within six months of graduating. In addition to the Cleveland campus, Lakeshore educates students at learning campuses in downtown Manitowoc and downtown Sheboygan. Classes are also offered at additional sites throughout the district. Visit Lakeshore at gotoltc.edu. 
Contact:          Teri Sturm, Marketing Copywriter
Phone:             920.693.1144
Email:              teri.sturm@gotoltc.edu
Press Room:   gotoltc.edu/about-us/ltc-news