Lakeshore Technical College Student Is a Published Illustrator & Business Owner
As a home-schooled student, Grace DeBruin was encouraged to explore the arts.
FOR IMMEDIATE RELEASE
5/03/2023
CLEVELAND, WI —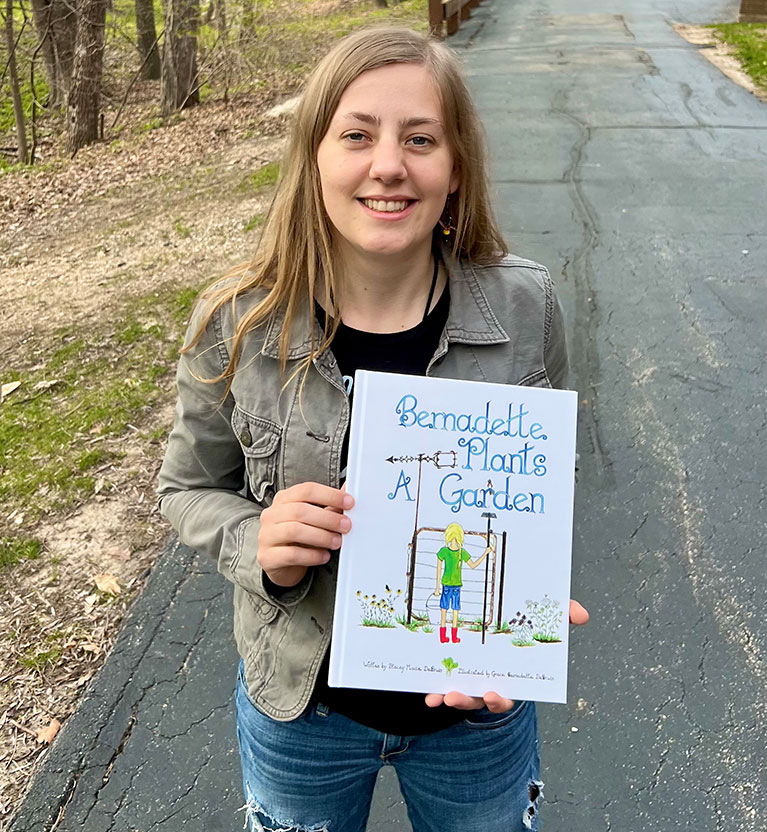 Grace DeBruin, illustrator of "Bernadette Plants A Garden." DeBruin will graduate May 20 from the graphic and web design program at Lakeshore Technical College.
Published illustrator and business owner are accomplishments one may not be surprised to see on the resume of a successful graphic designer in their 30s or older. To see such accomplishments on the resume of a 20-year-old college student studying graphic design would likely surprise many people.
Grace DeBruin, a graphic and web design student at Lakeshore Technical College, began the process of illustrating "Bernadette Plants A Garden," a story her mother wrote, at age 12. They published it as a book on their own in 2021 when DeBruin, whose middle name is Bernadette, was 18. 
As a home-schooled student, DeBruin says she was encouraged to explore and educate herself in topics she enjoyed. "I completely believe I would be entirely different if I hadn't been home-schooled and allowed to explore the arts and other subjects I enjoy," says DeBruin. "For me, the arts were always something I knew I wanted as a part of my life."
The Path to Illustrating
The basement was a creative space for the DeBruin family of New Holstein. It was where they created and bound their book of poems and stories written by friends and family, including "Bernadette Plants A Garden." According to DeBruin, her mother Stacey modeled the story after her. The book didn't have any illustrations though DeBruin loved drawing and thought it would be "so incredibly cool" to illustrate it.
DeBruin recalls her early illustrations were not up to book standards. She would get discouraged at times by her failures, though her parents always encouraged her to keep trying. Over the years she tried drawing in different styles with different materials. DeBruin says something "finally seemed to click" when she began working with pencil and watercolors around age 17. 
"After that, it went fairly quickly, and I was able to draw my pictures with very little revisions and I was so happy that my dream of being an illustrator finally was seeming realistic!" DeBruin says with pride. "It was such an incredible experience when I held the finished book and could page through something real that I had a hand in creating!" 
The Path to Business Owner
Bernadette & Bear is another result of DeBruin's exploration of the arts.  In 2021 she started the screen-printing business in her family's garage. According to DeBruin, it has grown into "more of an all things graphic design" business. She says she enjoys growing her skillset through her business and college courses, oftentimes learning something during her coursework that she then applies to her business.           
"I still love screen-printing clothing for people as one of my favorite things, but I also really enjoy when I can hand draw something for someone that is entirely unique, or make and design something cool, or even work with photos and videos on occasion," says DeBruin.
Preparing for a Career
DeBruin says she chose to focus on graphic arts and web design for a career because she always wanted to turn artwork, especially her own, into something she could produce, print, or develop into something she could share with others. She knew she wanted to learn in person somewhere she could become part of a community and make new friends. After looking into different graphics programs, DeBruin says Lakeshore's program won her over.
Friendships have developed through her membership in the Makers Club, a student club she joined shortly after it started in the fall of 2022. "I have learned a lot about things like 3D printing, laser cutting, injection molding, and more," she says. 
In addition to her involvement in the Makers Club, DeBruin is a member of Lakeshore's Phi Theta Kappa Honor Society and InterVarsity Christian Fellowship.
DeBruin is set to graduate from Lakeshore on May 20. She says she's excited to take all she has learned and apply it to her business. She may also look for a job to gain experience while growing her business. It's also possible she may further her education someday. She may illustrate future books. "I like to keep my options open," says DeBruin. 
Regardless of what De Bruin chooses to pursue, a bright future seems to be waiting.
For information about Lakeshore Technical College's graphic and web design program, visit gotoltc.edu/programs-and-courses/degree-programs. 
 
About Lakeshore Technical College
Lakeshore Technical College is a comprehensive community and technical college educating more than 8,000 students annually. Students enroll at Lakeshore to master real-world, employable career skills and start their pursuit of a bachelor's degree. Lakeshore faculty and staff are focused on providing each individual student an individualized learning experience.
 
Lakeshore Technical College is a nationally recognized two-year college. The college was ranked the #2 in the nation by Washington Monthly, #17 in the nation by Forbes, #20 in the nation by WallerHub.com, a top-150 two-year college by the Aspen Institute, a top 10 Bellwether Award finalist four out of the last five years, and named the 2021 Large Business/Industry of the Year by the Chamber of Manitowoc County.
 
Approximately 800 students graduate from Lakeshore each year, and associate degree graduates report earning a median salary of $59,899 within six months of graduating. In addition to the Cleveland campus, Lakeshore educates students at learning campuses in downtown Manitowoc and downtown Sheboygan, as well as in rural Manitowoc County at its School of Ag. Classes are also offered at additional sites throughout the district. Visit Lakeshore at gotoltc.edu.