LTC Announces Business Management & Accounting Transfer Agreements with UW-Green Bay
FOR IMMEDIATE RELEASE
12/13/2019
CLEVELAND, WI —
Lakeshore Technical College (LTC) and the University of Wisconsin-Green Bay have signed transfer agreements effective September 1, 2019 that allow students earning associate degrees in business management  or accounting at LTC to transfer their credits to UW-Green Bay when they major in those respective fields.
"With one in three LTC graduates furthering their education after graduating, we welcome students to choose us as an affordable and convenient start to their business management or accounting programs," said LTC Vice President of Instruction James Lemerond. "We appreciate having these agreements in place, showing tremendously close alignment between these programs at LTC and UW-Green Bay, as well as high-quality instruction."
The business management agreement requires students who earn an associate degree in business management at LTC to enroll in the bachelor's degree business administration major, with an emphasis in one of eight areas: business analysis, entrepreneurship, finance, general business, human resource management, management, marketing, and supply chain management.
The accounting agreement requires students who earn an associate degree in accounting at LTC to enroll in the bachelor's degree accounting major with a business administration minor. Students will also have the option to earn enough credits to become eligible to sit for the certified public accountant (CPA) license exam.
Students who choose to earn their business management or accounting degree at LTC and then transfer to UW-Green Bay can expect to save up to $7,000 in tuition and fees alone. They will also minimize the time it takes to earn their bachelor's degree by avoiding retaking courses that would not transfer.
LTC students will be required to meet standard UW-Green Bay admission and graduation requirements.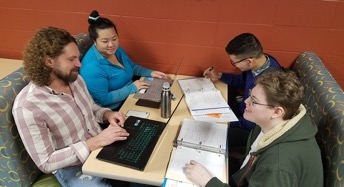 About Lakeshore Technical College
Each year more than 10,000 people enroll in courses at Lakeshore Technical College. They rely on LTC for job preparation, to earn a degree, upgrade a specialized skill, train as an apprentice, or seek a high school equivalency. LTC faculty and staff meet students where they are in life and help them get one step closer to achieving their goals.
LTC is a nationally recognized technical college. The college was ranked the #2 two-year college in the nation for adult learners by Washington Monthly, the #17 trade school in the nation by Forbes, #11 in the nation for two-year college educational outcomes by WalletHub.com, a top-150 two-year college for the fifth consecutive time by the Aspen Institute, and a top 10 Bellwether Award finalist.
Approximately 800 students graduate from LTC each year, and LTC's associate degree graduates earn a median salary of $47,800* per year. In addition to the Cleveland campus, LTC serves students in Manitowoc and Sheboygan, and offers classes at additional sites throughout the district. Visit LTC at gotoltc.edu.
*Source: 2019 LTC Graduate Outcomes report, 795 graduates contacted to complete the survey; 508 graduates or 64% completed the survey.