FOR IMMEDIATE RELEASE
5/9/2019
CLEVELAND, WI —
Kailey Smidel, a Lakeshore Technical College Administrative Professional program student, received a Distinguished Chapter Officer award at Phi Theta Kappa's annual PTK Catalyst convention held last month in Orlando, Fla. Only 31 out of approximately 5,200 chapter officers were honored.
The Distinguished Chapter Officers were chosen based on an officer's demonstration of leadership, promotion of Phi Theta Kappa programming and other engagement in the honor society, and enthusiasm for its hallmarks of scholarship, leadership, service and fellowship.
"We were very excited, though not surprised, to see Kailey recognized with this honor. She has embraced many Phi Theta Kappa opportunities and is the type of leader that respects her teammates' ideas and skills, making her a leader others want to work with," said Mary Kultgen, LTC instructor. She and Sue Kinneston, LTC testing services manager, serve as serve as co-advisors for the chapter.
Phi Theta Kappa (PTK), a community for high achieving students, is one of the largest and most prestigious honor societies in higher education. It is the only honor society that serves two-year colleges offering associate degree programs. Membership is based primarily on academic excellence and is extended by invitation only.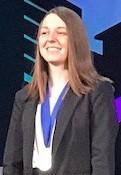 Press Slug
About Lakeshore Technical College
Each year more than 10,000 people enroll in courses at Lakeshore Technical College. They rely on LTC for job preparation, to earn a degree, upgrade a specialized skill, train as an apprentice, or seek a high school equivalency. LTC faculty and staff meet students where they are in life and help them get one step closer to achieving their goals.
LTC is a nationally recognized technical college. The college was ranked the #2 two-year college in the nation for adult learners by Washington Monthly, the #17 trade school in the nation by Forbes, #11 in the nation for two-year college educational outcomes by WalletHub.com, a top-150 two-year college for the fifth consecutive time by the Aspen Institute, and a top 10 Bellwether Award finalist.
Approximately 800 students graduate from LTC each year, and LTC's associate degree graduates earn a median salary of $47,800* per year. In addition to the Cleveland campus, LTC serves students in Manitowoc and Sheboygan, and offers classes at additional sites throughout the district. Visit LTC at gotoltc.edu.
*Source: 2019 LTC Graduate Outcomes report, 795 graduates contacted to complete the survey; 508 graduates or 64% completed the survey.