Milwaukee High School Students Train on Robots at LTC
FOR IMMEDIATE RELEASE
9/17/2019
CLEVELAND, WI —
Students from Barack Obama School of Career & Technical Education (BOSCTE) recently visited Lakeshore Technical College (LTC) to start learning how to program Fanuc industrial robots. The visits were a result of a collaborative effort between instructors who met at a SkillsUSA competition earlier this year.
Several BOSCTE students accompanied Technical Education Instructor Dave Kontz to LTC, where they spent time getting familiar with the Fanuc robots in LTC's state-of-the-art robotics lab. Kontz was invited to visit with his students by LTC Electro-Mechanical Program Coordinator/Instructor Jim Gruenke. Kontz would like BOSCTE students to gain exposure to high-tech career options and become skilled enough with the robots so they're prepared for a Fanuc robotics competition this fall.
"It's important for our students to become familiar with the Fanuc robots, which are a whole different robot than what we have back at our school in Milwaukee, because they'll be better prepared for their technical college education and future in general," said Krontz. "By learning about robotics, they're getting on a direct pipeline to a great career, not just a job," he added.
Fanuc robots are a brand of choice throughout Wisconsin industry, according to Gruenke and Krontz. Both say technicians are in high demand around the state, as well as the U.S.
When asked what his favorite training activity was, Nathan Mason, a senior at BOSCTE, said, "My favorite part is that I like getting a feel for the robot. It's challenging, but I'm getting the hang of it."
LTC offers a variety of opportunities to gain and build the robotics expertise that is in demand today among advanced manufacturing industries locally, statewide, and beyond. Options include two year associate degree programs, technical diplomas, and advanced robotics training seminars for those already in the workplace.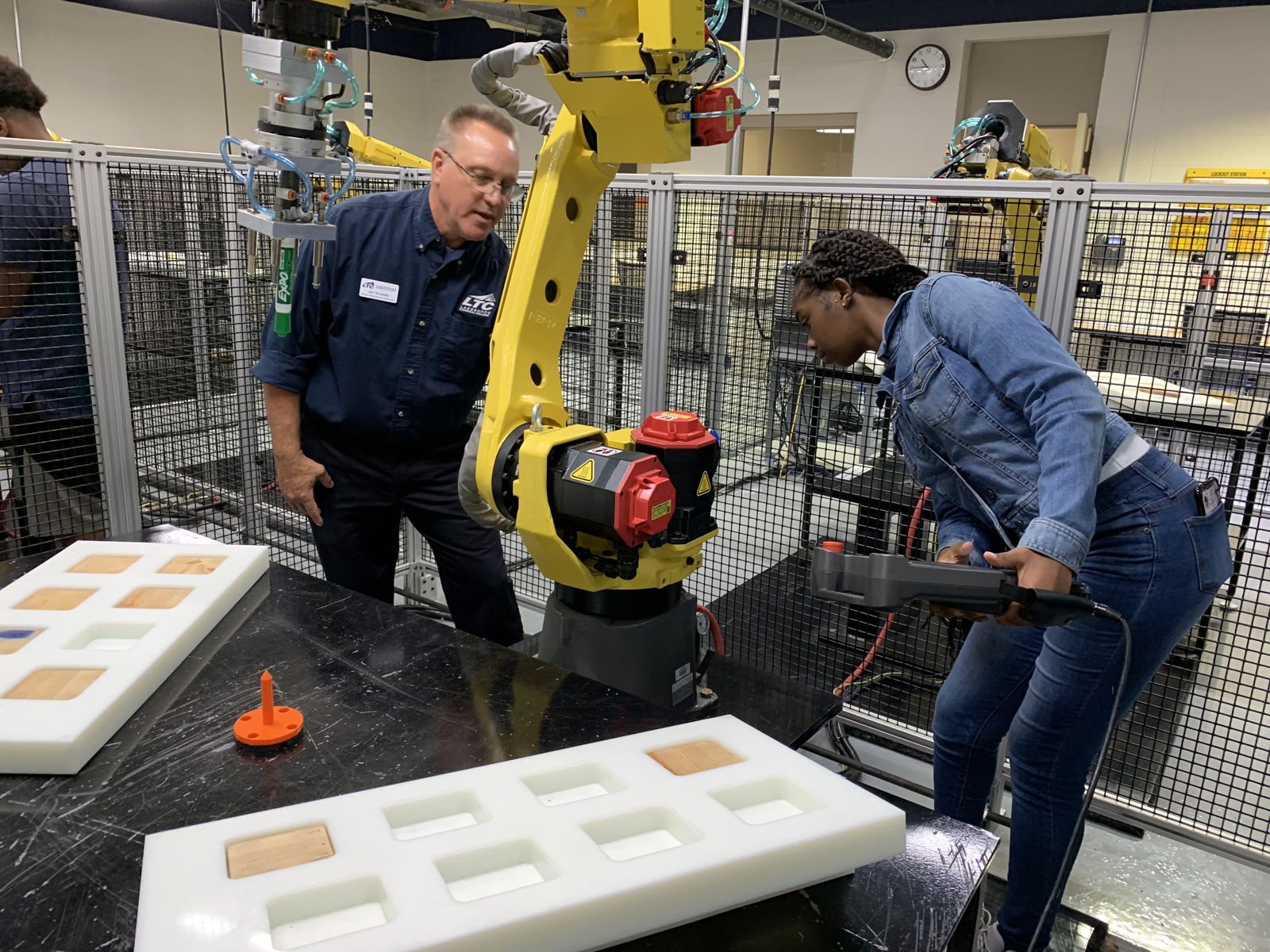 Milwaukee high school student Natori Dixon-McNeil getting a close look at a Fanuc robot as Lakeshore Technical College robotics expert Jim Gruenke guides her through her programming.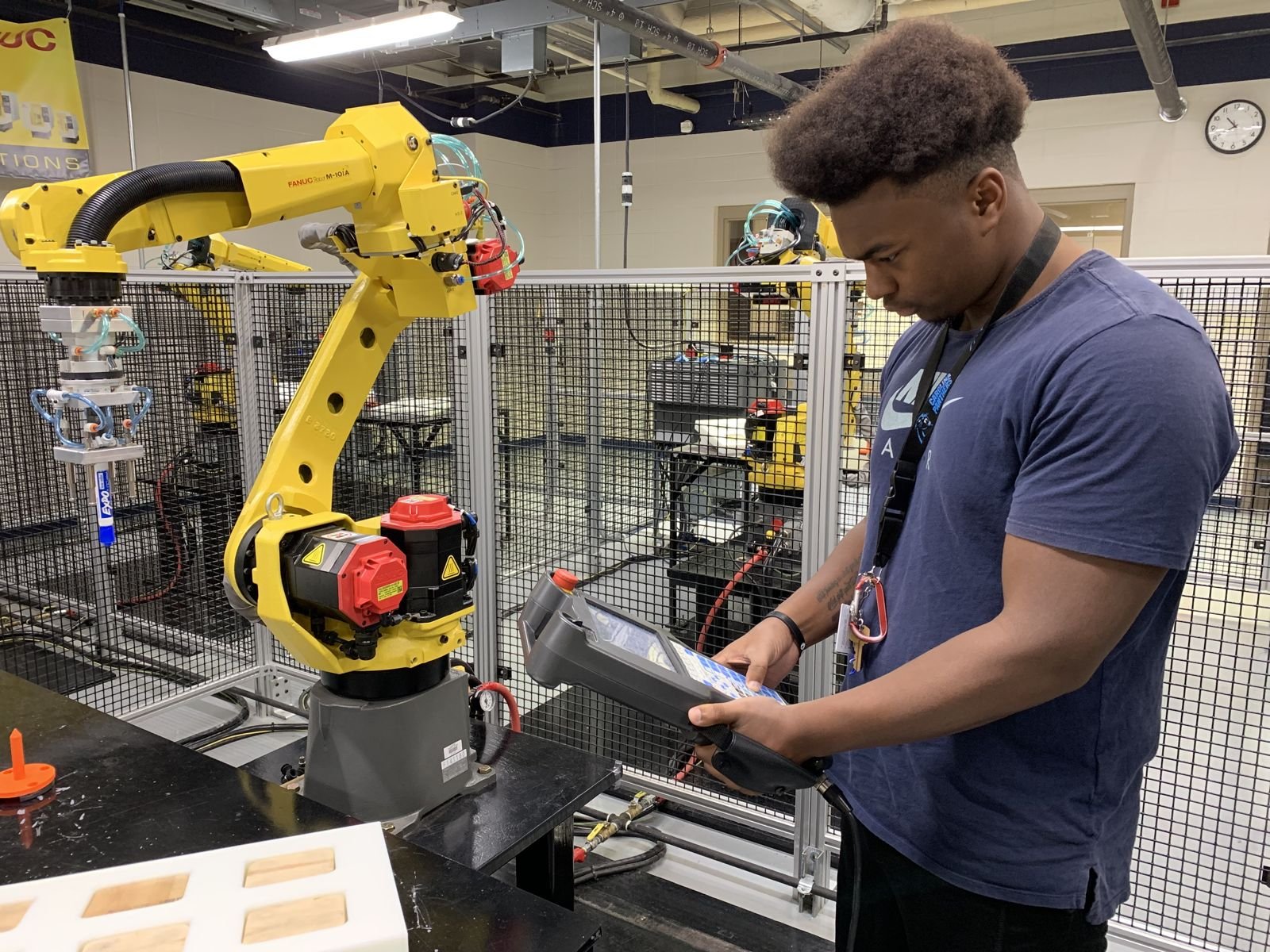 Milwaukee high school student Nathan Mason using a teach pendant to interface with the Fanuc robot he is learning to program at Lakeshore Technical College.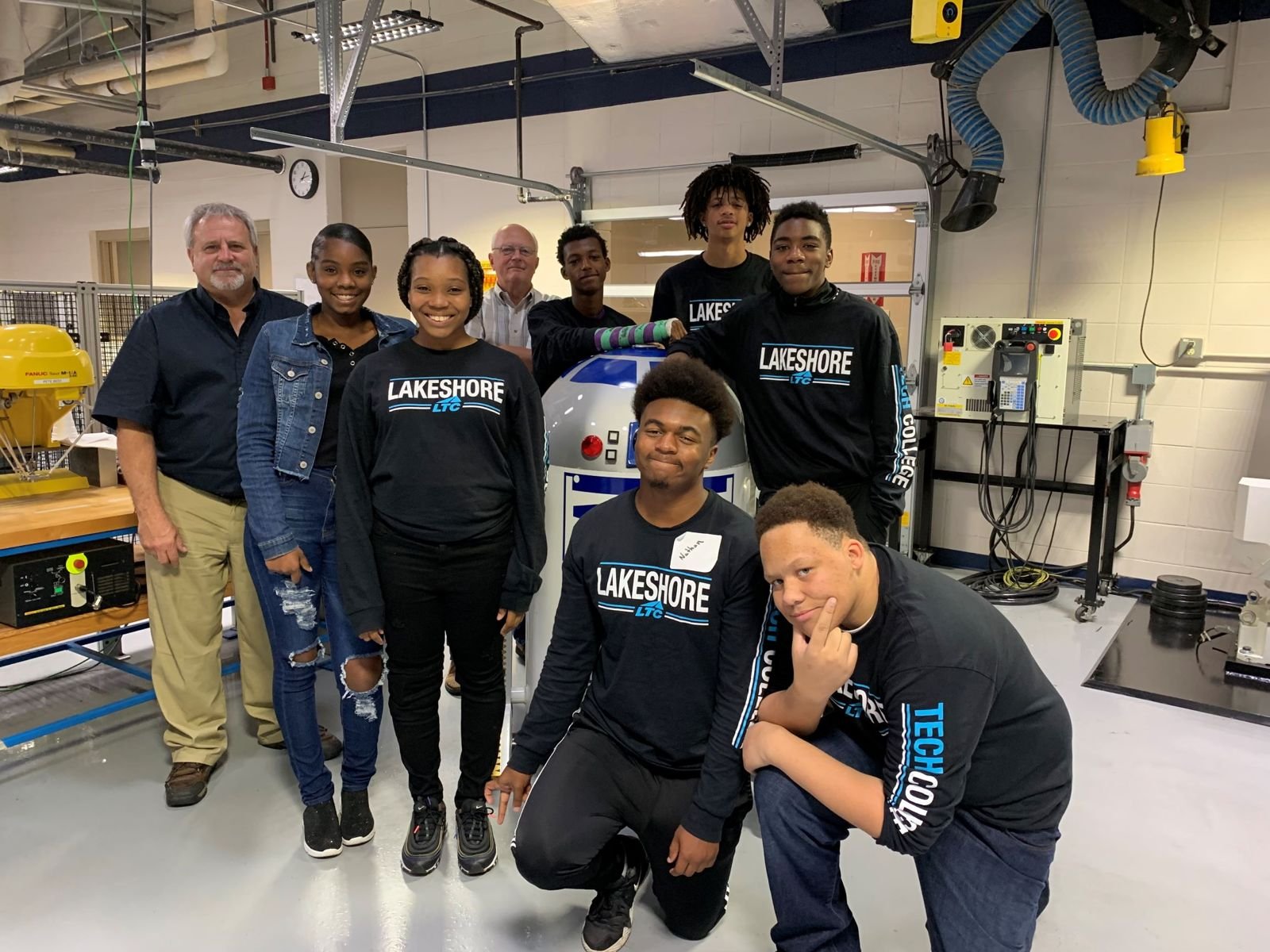 Milwaukee high school students and advisors are learning about Fanuc robots thanks to a new relationship with Lakeshore Technical College.
About Lakeshore Technical College
Each year more than 10,000 people enroll in courses at Lakeshore Technical College. They rely on LTC for job preparation, to earn a degree, upgrade a specialized skill, train as an apprentice, or seek a high school equivalency. LTC faculty and staff meet students where they are in life and help them get one step closer to achieving their goals.
LTC is a nationally recognized technical college. The college was ranked the #2 two-year college in the nation for adult learners by Washington Monthly, the #17 trade school in the nation by Forbes, #11 in the nation for two-year college educational outcomes by WalletHub.com, a top-150 two-year college for the fifth consecutive time by the Aspen Institute, and a top 10 Bellwether Award finalist.
Approximately 800 students graduate from LTC each year, and LTC's associate degree graduates earn a median salary of $47,800* per year. In addition to the Cleveland campus, LTC serves students in Manitowoc and Sheboygan, and offers classes at additional sites throughout the district. Visit LTC at gotoltc.edu.
*Source: 2019 LTC Graduate Outcomes report, 795 graduates contacted to complete the survey; 508 graduates or 64% completed the survey.