Mother Daughter Duo Succeed Together as Nursing Students
A pandemic-related job loss led to both pursuing the same nursing degree.
FOR IMMEDIATE RELEASE
9/20/2022
CLEVELAND, WI —
When Alivia Muckerheide walks across the stage to receive her nursing degree in December, her mother will be cheering her on while anticipating her own graduation next year in May, from the same program. Due to a pandemic-related twist of events, the mother daughter nursing student duo has been attending Lakeshore Technical College together since January 2021.
Alivia started attending Lakeshore in 2018 while attending Sheboygan Falls High School and participating in the Youth Apprenticeship program. Like many seniors who graduated in spring 2020, she graduated without experiencing a traditional ceremony, a senior prom, or senior trip. Alivia says she went "in the blink of an eye" from attending high school classes virtually to in-person learning at Lakeshore. 
Early on during the pandemic, Alivia's mother, Jennie Muckerheide, found out her job was eliminated by the company she had worked at for 21 years. Jennie's husband asked her if she considered going back to school for nursing, the program she started in after graduating from high school, but eventually left. 
While Jennie considered her options, Alivia was preparing to begin her first semester in Lakeshore's associate degree nursing program. Jennie had been talking with Alivia about the ample opportunities she'd have in nursing and started thinking, "I could have those same opportunities." 
Jennie decided to leave the business world behind and pursue a future in nursing. She applied to Lakeshore and started taking courses. Jennie soon found herself only one semester behind Alivia due to receiving credit for her prior learning, which included her earlier nursing coursework and courses taken while earning the bachelor's degree she completed in business/marketing.
Learning together, supporting each other.
Both Alivia and Jennie like Lakeshore's small class sizes, in-person learning, and instructors. "The instructors bring to the table their RN experiences which help us relate to topics. They don't just regurgitate information – they incorporate real stories into their case studies," says Jennie. "They are flexible with their time for meeting about exams or questions regarding the material," adds Alivia.
In addition to studying together, the Muckerheides support each other. Alivia says she does her best to motivate her mom and Jennie likes getting Alivia's textbooks. "Although she usually bought the textbook, my trade-off is that I bought groceries," Jennie jokes.
Nursing still rewarding despite the pandemic's effects.
The nursing field has been hit hard by the pandemic. The 2022 Wisconsin Health Care Workforce Report shows the combination of a spike in departures by nurses and other health care workers during the "Great Resignation" along with an aging workforce created unprecedented levels of vacancy rates in health care professions in 2021. 
Alivia and Jennie both say being able to help people provides a great deal of satisfaction. While considering whether to return to the business world or pursue nursing, Jennie says she chose nursing in large part because of the "endless opportunities – long-term care, acute care, home health care, hospice, administration, research, and the list goes on."
Alivia is working as a nurse extern at HSHS St. Nicholas Hospital in Sheboygan. Jennie is working as a certified nursing assistant (CNA) at Aurora Sheboygan Medical Center. Both want to continue working where they are after completing their degrees and passing the National Council Licensure Examination (NCLEX), which is required to identify and work as a registered nurse (RN). Both also plan to transfer their credits after graduating and complete bachelor's degrees.
Both Alivia and Jennie encourage anyone considering nursing to pursue their dreams.
Jennie says her life experiences have helped her become a better student and will help her become an even better RN. Her advice for someone in a similar situation as hers is: "Do it. In the long run, when you are done in hopefully two years (four semesters of the core classes) you can say 'I did it' and begin to reap the rewards of a stable, long career in healthcare." 
Alivia's advice touches on the need for patience. "Good things take time! Take that job at the nursing home; work the third shift CNA position at the hospital; apply for the LPN (licensed practical nurse) position on the medsurg floor. It will be worth it and provide a small taste of nursing."
For information on Lakeshore's nursing programs, visit gotoltc.edu/programs-and-courses/degree-programs.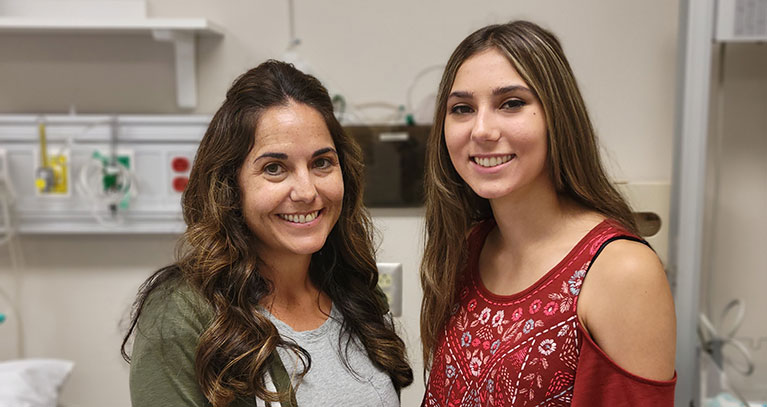 Jennie Muckerheide and her daughter, Alivia Muckerheide, are pursuring their nursing degrees together at Lakeshore Technical College.
About Lakeshore Technical College
Each year more than 8,000 people enroll in courses at Lakeshore Technical College. They rely on Lakeshore for job preparation, to earn a degree, upgrade a specialized skill, train as an apprentice, or seek a high school equivalency. Lakeshore faculty and staff meet students where they are in life and help them get one step closer to achieving their goals. 
Lakeshore Technical College is a nationally recognized technical college. The college was ranked the #2 two-year college in the nation for adult learners by Washington Monthly, #4 in the nation for two-year college educational outcomes by WalletHub.com, a top-150 two-year college by the Aspen Institute, a top 10 Bellwether Award finalist three out of the last four years, and the 2021 Large Business/Industry of the Year by the Chamber of Manitowoc County.
Approximately 800 students graduate from Lakeshore Technical College each year, and associate degree graduates earn a median salary of $54,048 per year. In addition to the Cleveland campus, Lakeshore serves students in Manitowoc and Sheboygan, and offers classes at additional sites throughout the district. Visit Lakeshore at gotoltc.edu.