A New Cycle of Education Going Strong for this Graduation Speaker's Family
Gloria Elias will be the second in her family to graduate from Lakeshore Technical College
FOR IMMEDIATE RELEASE
12/17/2020
CLEVELAND, WI —
Not long ago, Gloria Elias found herself wondering if working long hours as a machine operator at a manufacturing plant was her only purpose in life. She was good at her job though wondered if she was capable of achieving something more. Fast-forward two and half years and Elias, a first-generation college student who was selected to be the student speaker at Lakeshore Technical College's December 19 graduation, is looking forward to sharing her family's education success story.
According to Elias, her parents did not finish high school and her family did not have much familiarity with college. She says they all thought college was out of reach for them until one of their sisters, Laura Monarrez, enrolled in a short-term certificate program at her employer's request. Monarrez shared the excitement she found in attending Lakeshore and encouraged Elias to explore her educational options. The education excitement then spread to the other two siblings, leading all four to attend Lakeshore.
Elias, whose academic success landed her membership in Lakeshore's Phi Theta Kappa International Honor Society chapter, will be the second in her family to graduate from the college.
"Not only do we benefit from attending school, but we can encourage younger and older generations to begin a new cycle of education within our families," says Elias, the mother of two young boys. "Look at what has happened with my family. With the right mindset, support from loved ones, and willingness to work hard, we are all more than capable of achieving success."
Elias is graduating with an associate degree from Lakeshore's quality assurance technician program. In January, she will begin working toward her bachelor's degree at Lakeland University while continuing to work at Rockline Industries in Sheboygan. Monarrez earned an associate degree in human resource administration and is currently attending Lakeland. Joel Elias is enrolled in the electro-mechanical automation and mechanical maintenance technician programs. Emily Jose Camarillo, the youngest in the family, is enrolled in the business management program.
More of Elias's story can be heard during Lakeshore's virtual graduation that will stream live on the college's Facebook page and YouTube channel beginning at 10 am Saturday. Links to the virtual celebration can be found at gotoltc.edu/Lets-Celebrate.
For more information on Lakeshore's quality assurance technician program, visit gotoltc.edu/quality-assurance-tech.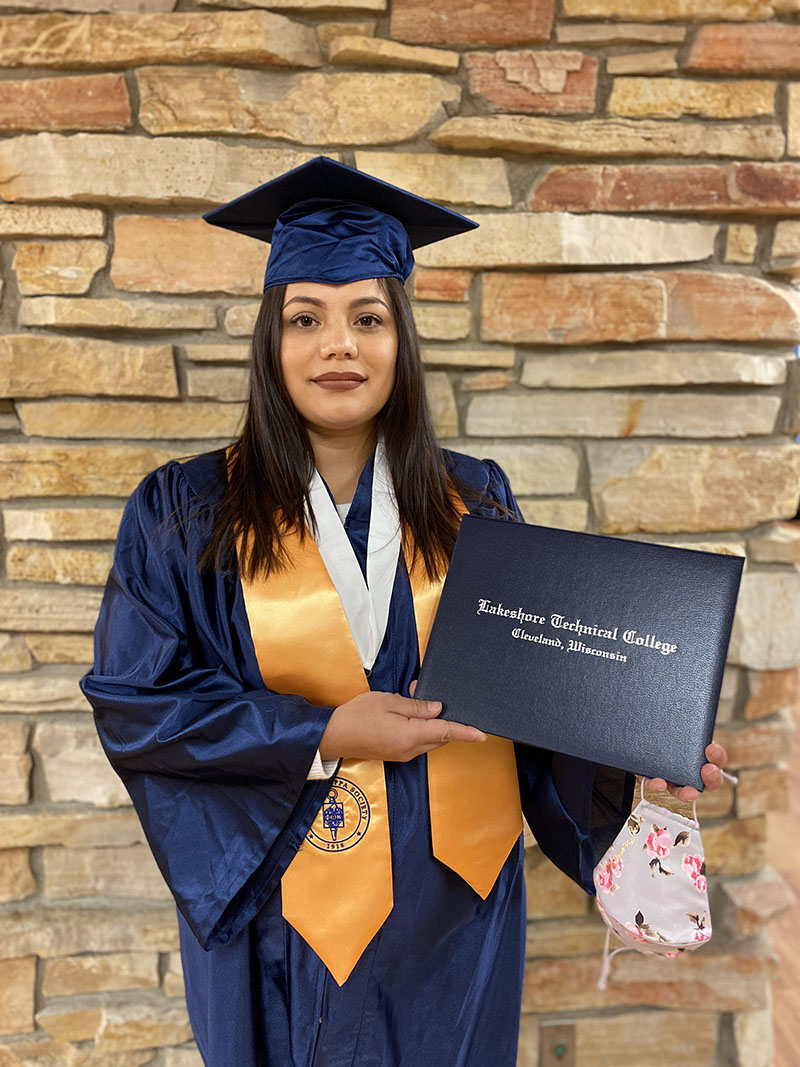 Gloria Elias, Lakeshore Technical College graduation student speaker
About Lakeshore Technical College
Each year more than 10,000 people enroll in courses at Lakeshore Technical College. They rely on LTC for job preparation, to earn a degree, upgrade a specialized skill, train as an apprentice, or seek a high school equivalency. LTC faculty and staff meet students where they are in life and help them get one step closer to achieving their goals.
LTC is a nationally recognized technical college. The college was ranked the #2 two-year college in the nation for adult learners by Washington Monthly, #20 in the nation for two-year college educational outcomes by WalletHub.com, a top-150 two-year college for the fifth consecutive time by the Aspen Institute, and a top 10 Bellwether Award finalist for two consecutive years.
Approximately 800 students graduate from LTC each year, and LTC's associate degree graduates earn a median salary of $42,000 per year. In addition to the Cleveland campus, LTC serves students in Manitowoc and Sheboygan, and offers classes at additional sites throughout the district. Visit LTC at gotoltc.edu.