Sheboygan North High School Students Earn Lakeshore Technical College Associate Degrees Before Graduating High School
Charlie Rechtfertig and Jacob Swigert earned associate degrees in information technology while in high school.
FOR IMMEDIATE RELEASE
6/13/2022
CLEVELAND, WI —
When Charlie Rechtfertig and Jacob Swigert graduated from Sheboygan North High School June 11, they were not only excited about completing high school, but also about completing two years of college while in high school thanks to their participation in College Here & Now. They are also the first two College Here & Now program graduates.
College Here & Now is a nationally recognized program that allows high school students the opportunity to earn a college degree in the information technology field from Lakeshore Technical College at the same time as their high school diploma – without leaving school and without any tuition cost. The program launched in the fall of 2019 at Sheboygan North and Sheboygan South high schools and will be available in seven high schools across the Lakeshore Technical College district this fall.
"We are so proud of Charlie and Jacob and their huge accomplishment of obtaining their two-year degree through LTC, while in high school! After graduating, most students begin to focus on their post high school plans. Charles and Jacob, on the other hand, will be focusing on their post associate degree plans. That is very exciting," said Sheboygan North High School Principal John Matczak.
Rechtfertig and Swigert completed their coursework in the IT-Web and Software Developer associate degree program in May. Both also completed coursework to earn their technical diplomas in the IT-Web Development Specialist program. 
When asked what prompted the students to enroll in College Here & Now, Swigert said, "There were no good places for programming experience in my high school education. I wanted to learn on my own, but also work towards my degree." 
"I had an interest in programming, and the idea of not only earning college credits, but a full degree while in high school, and for free was very exciting to me," said Rechtfertig, whose family was considering switching schools to Sheboygan North for that year before they knew about College Here & Now. According to Rechtfertig, learning about the opportunity from the guidance counselor helped his family with their decision to switch.
Rechtfertig and Swigert started their College Here & Now coursework as sophomores. Both students say they were challenged by the coursework, which prepared them well for the next step on their educational paths. Swigert is taking advantage of a transfer agreement Lakeshore has with Lakeland University. He will attend Lakeland in the fall where he will be able to complete his bachelor's degree in computer science in two years. Rechtfertig will major in Computer Science at UW-Madison in fall. 
"All the coursework completed by Charles and Jacob is the same level of college rigor as our full-time traditional students pursue," said Lakeshore Dean of Business, Technology, and Hospitality Douglas Hamm. "The effort they put in to complete this work in three academic years in addition to their high school requirements is truly impressive. We know they will be successful in their future academic pursuits."
High school students interested in College Here & Now can contact guidance counselors at schools offering the program for the 2022-2023 school year. Schools include Kiel, Manitowoc Lincoln, Manitowoc McKinley, Mishicot, Sheboygan North, Sheboygan South, and Two Rivers.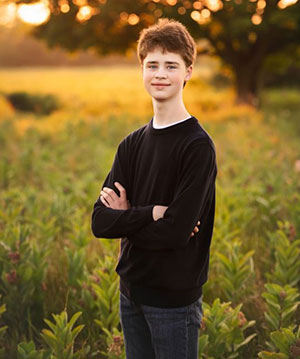 Charlie Rechtfertig
Jacob Swigert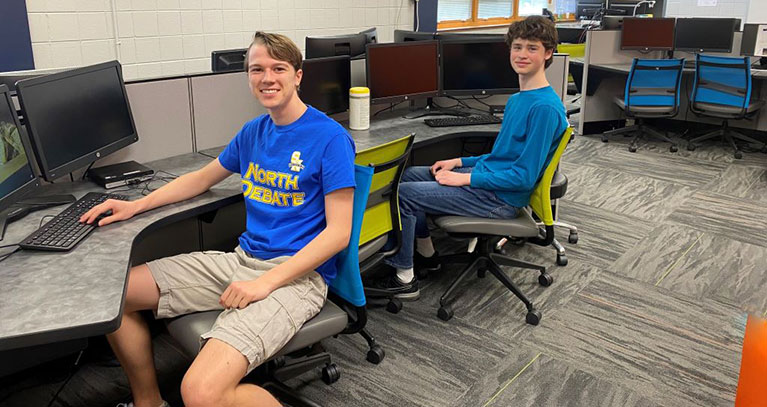 Jacob Swigert and Charlie Rechtfertig in the College Here & Now lab at Sheboygan North High School, where they completed their associate degree in IT-Web and Software Developer from Lakeshore Technical College while also completing their high school studies.
About Lakeshore Technical College
Each year more than 8,000 people enroll in courses at Lakeshore Technical College. They rely on Lakeshore for job preparation, to earn a degree, upgrade a specialized skill, train as an apprentice, or seek a high school equivalency. Lakeshore faculty and staff meet students where they are in life and help them get one step closer to achieving their goals. 
Lakeshore Technical College is a nationally recognized technical college. The college was ranked the #2 two-year college in the nation for adult learners by Washington Monthly, #20 in the nation for two-year college educational outcomes by WalletHub.com, a top-150 two-year college by the Aspen Institute, a top 10 Bellwether Award finalist three out of the last four years, and the 2021 Large Business/Industry of the Year by the Chamber of Manitowoc County.
Approximately 800 students graduate from Lakeshore Technical College each year, and associate degree graduates earn a median salary of $54,048 per year. In addition to the Cleveland campus, Lakeshore serves students in Manitowoc and Sheboygan, and offers classes at additional sites throughout the district. Visit Lakeshore at gotoltc.edu gotoltc.edu.