State Reps Join Roundtable Discussion Focusing on Lakeshore Technical College's $1.64 Million Workforce Innovation Grant
FOR IMMEDIATE RELEASE
10/13/2022
CLEVELAND, WI —
Representatives from the Wisconsin Economic Development Corporation and Department of Workforce Development were at Lakeshore Technical College October 12 to participate in a roundtable discussion with partners in the $1.64 million Workforce Innovations Grant awarded to the college in June by Governor Tony Evers. The grant is funding the "Lakeshore Industry 4.0 Pathways and Upskilling" project.
"As the community driver for technical education in our district, this grant is helping us respond to our partners' requests to provide training where students are at. Locations will include local high schools, manufacturing facilities, and community-based organizations," said Lakeshore President Dr. Paul Carlsen.
Lakeshore's grant is intended to increase workforce participation in advanced manufacturing jobs involving robotics. Labor shortages intensified in east-central Wisconsin during the pandemic, specifically among manufacturing industries vital to the region's economic vitality. Many manufacturers have increased their use of robotics due to labor shortages, leading to an increased need for robotics expertise, which is a high-paying field. 
Activities will also involve underserved and untapped populations that experienced less workforce participation and more socio-economic hardships due to the pandemic.
Key to the implementation of the grant is the launch of a new mobile learning lab. The lab will offer automated education opportunities at no cost to learners who will be able to build upon what they learn. Grant partners stated they anticipate exposure to the lab will help targeted individuals envision themselves learning skills paying family-sustaining wages.
When asked by Missy Hughes, secretary and CEO of the Wisconsin Economic Development Corporation, how the need to provide training at non-campus locations and to non-traditional populations was identified, Carlsen shared the success Lakeshore had with offering virtual welding training at its Sheboygan and Manitowoc locations. He said listening to business partners helped all involved realize the "strong appetite" in the community to deliver training where students are at.
Additional grant partners represented at the roundtable included United Way Manitowoc County, Amerequip, Valders High School, New North, and Bay Area Workforce Development.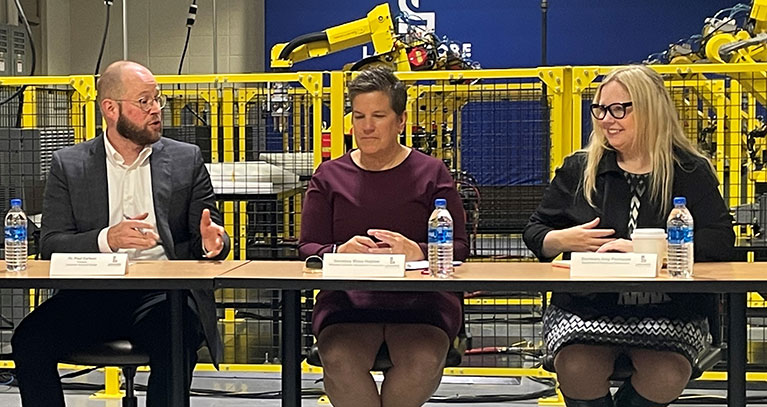 Lakeshore Technical College President Dr. Paul Carlsen discusses grant progress with Missy Hughes, secretary and CEO of the Wisconsin Economic Development Corporation, and Amy Pechacek, secretary-designee of the Department of Workforce Development, during a roundtable discussion held October 12 at the college.
About Lakeshore Technical College
Each year more than 8,000 people enroll in courses at Lakeshore Technical College. They rely on Lakeshore for job preparation, to earn a degree, upgrade a specialized skill, train as an apprentice, or seek a high school equivalency. Lakeshore faculty and staff meet students where they are in life and help them get one step closer to achieving their goals. 
Lakeshore Technical College is a nationally recognized technical college. The college was ranked the #2 two-year college in the nation for adult learners by Washington Monthly, #4 in the nation for two-year college educational outcomes by WalletHub.com, a top-150 two-year college by the Aspen Institute, a top 10 Bellwether Award finalist three out of the last four years, and the 2021 Large Business/Industry of the Year by the Chamber of Manitowoc County.
Approximately 800 students graduate from Lakeshore Technical College each year, and associate degree graduates earn a median salary of $54,048 per year. In addition to the Cleveland campus, Lakeshore serves students in Manitowoc and Sheboygan, and offers classes at additional sites throughout the district. Visit Lakeshore at gotoltc.edu.