Tax Preparation Assistance Provided by Lakeshore Technical College Accounting Students
Students put their skills to use as part of the Volunteer Income Tax Assistance Program (VITA).
 
FOR IMMEDIATE RELEASE
4/02/2021
CLEVELAND, WI —
Thousands of local income-eligible residents have received free tax preparation assistance and filing through the Volunteer Income Tax Assistance (VITA) program. Accounting students at Lakeshore Technical College have been participating in the program and earning IRS certification since 2005. When the college found out late in 2020 that most other local VITA partners would not be conducting tax preparation operations during the upcoming tax season, the Lakeshore VITA team rallied and began planning for its program. 
"Following the most recent CDC (Centers for Disease Control and Prevention) guidelines, we devised a plan to make this vital community service available to those needing it. Our students and faculty were determined to serve our community members," said Lakeshore Dean of Business, Technology, and Hospitality Douglas Hamm.
Lakeshore develops an appointment schedule for each tax season based on how many students are enrolled in the Applied Tax course. With 21 students enrolled at the time the schedule was developed, the service timeframe was set for February 9 through April 6. All reservations were filled by mid-January.
Through March 30, students prepared 127 returns at Lakeshore's Cleveland campus, generating $212,000 in federal and state refunds. By the end of the season, Hamm expects students to have volunteered over 500 hours of service to the community while completing 148 returns.
There is no charge for having students prepare and file federal or state returns through the VITA program. Students cannot accept any type of compensation for their assistance, including tips or gifts. Students are supervised to ensure forms are completed accurately.
For information about Lakeshore's accounting programs, visit gotoltc.edu/academics/degree-programs.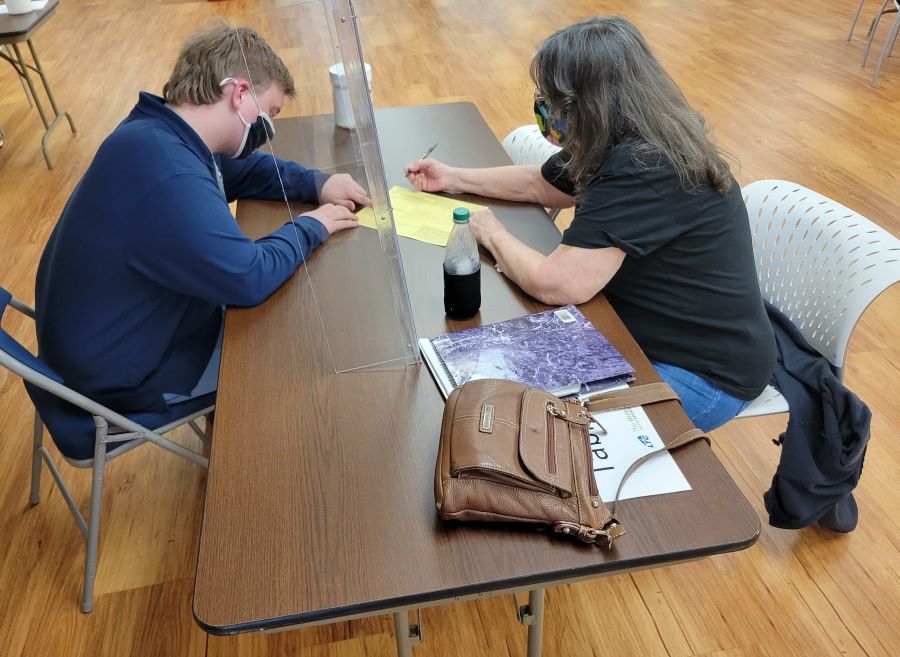 Nathan Buschmann, a Lakeshore Technical College accounting program student participating in the Volunteer Income Tax Assistance (VITA) program, assists client Caroline Gotchy with preparing and filing her 2020 taxes.
About Lakeshore Technical College
Each year more than 10,000 people enroll in courses at Lakeshore Technical College. They rely on LTC for job preparation, to earn a degree, upgrade a specialized skill, train as an apprentice, or seek a high school equivalency. LTC faculty and staff meet students where they are in life and help them get one step closer to achieving their goals.
LTC is a nationally recognized technical college. The college was ranked the #2 two-year college in the nation for adult learners by Washington Monthly, #20 in the nation for two-year college educational outcomes by WalletHub.com, a top-150 two-year college for the fifth consecutive time by the Aspen Institute, and a top 10 Bellwether Award finalist for two consecutive years.
Approximately 800 students graduate from LTC each year, and LTC's associate degree graduates earn a median salary of $42,000 per year. In addition to the Cleveland campus, LTC serves students in Manitowoc and Sheboygan, and offers classes at additional sites throughout the district. Visit LTC at gotoltc.edu.