TechCamp Offers Kids a Chance to Learn Using Rockets, Robots, 3D Printing, and More
Lakeshore Technical College hosts its fourth fun, educational camp for kids ages 12-16.
FOR IMMEDIATE RELEASE
6/16/2021
CLEVELAND, WI —
From building rockets out of Pringles cans to programming the same robots used in manufacturing facilities around the world, boys and girls ages 12-16 had the opportunity to explore a variety of activities and careers related to science, technology, engineering, and math (STEM) June 14-17 at Lakeshore Technical College (LTC).
In addition to building rockets and programming robots, the campers participated in hands-on activities involving 3D printers, catapults, coding, and process improvement. They also learned about the value of teamwork.
Geethika Balachander, a 12-year-old from Sheboygan, said camp sounded fun to her because she likes building things. She enjoyed building her mini robot and having the opportunity to try making what she called "the big robots" do what she wanted.
Ben Davila, an 11-year-old from Waldo, was excited about using a ProtoTRAK milling machine to engrave his name on a metal block. "I came to camp because I wanted to learn a lot more stuff than I already know about 3D printing, robotics, and mechanics," he said.
Steve Manthey, a machine tool operations specialist at LTC, said he enjoys teaching the camp because he can relate to the kids. "I love seeing the curiosity in the kids when they ask 'Hey, what's that?' For kids this age, this is the first time they are exposed to something like this, and it is when they start developing their interest in hobbies and careers." 
This was the fourth year LTC has hosted Tech Camp. The educational camp is supported by a grant from Nuts, Bolts & Thingamajigs®, a foundation that supports individuals in discovering their interest in manufacturing and related careers. LTC's camp is one of 100 taking place across the U.S. this summer. Campers came from as far away as Menomonee Falls.
For information on LTC's STEM-related programs, visit gotoltc.edu/academics/degree-programs.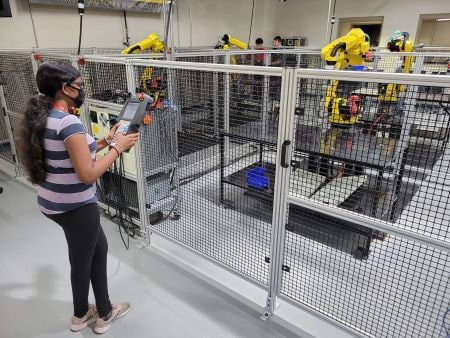 Geethika Balachander gets hands-on experience programming a FANUC robot at Lakeshore Technical College.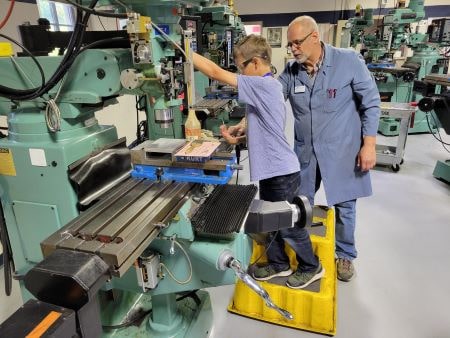 Ben Davila learns how to program and operate a ProtoTRAK milling machine with help from Lakeshore Technical College Machine Tool Operations Specialist Steve Manthey.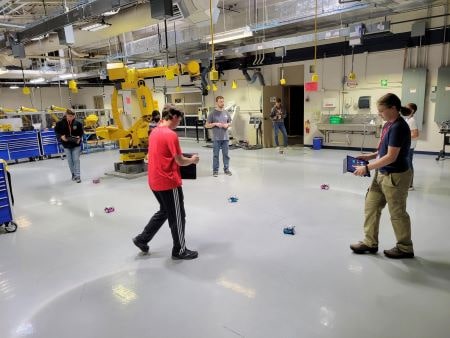 Campers practice running the mini robots they built during TechCamp at Lakeshore Technical College.
About Lakeshore Technical College
Each year more than 10,000 people enroll in courses at Lakeshore Technical College. They rely on LTC for job preparation, to earn a degree, upgrade a specialized skill, train as an apprentice, or seek a high school equivalency. LTC faculty and staff meet students where they are in life and help them get one step closer to achieving their goals.
LTC is a nationally recognized technical college. The college was ranked the #2 two-year college in the nation for adult learners by Washington Monthly, #20 in the nation for two-year college educational outcomes by WalletHub.com, a top-150 two-year college for the fifth consecutive time by the Aspen Institute, and a top 10 Bellwether Award finalist for two consecutive years.
Approximately 800 students graduate from LTC each year, and LTC's associate degree graduates earn a median salary of $52,000 per year. In addition to the Cleveland campus, LTC serves students in Manitowoc and Sheboygan, and offers classes at additional sites throughout the district. Visit LTC at gotoltc.edu.