Wisconsin Aluminum Foundry Receives Wisconsin Technical College System's Futuremaker Partner Award
FOR IMMEDIATE RELEASE
11/08/2023
CLEVELAND, WI —
Wisconsin Aluminum Foundry was honored November 7 at a celebration where it was named by the Wisconsin Technical College System as the recipient of a Futuremaker Partner Award in recognition of its relationship with Lakeshore Technical College. 
Futuremaker Awards are announced four times a year by the WTCS to pay tribute to the valuable relationships between employers and local technical colleges. 
The foundry's CEO, Sachin Shivaram, is an active member of Lakeshore's Foundation board. Other key staff serve on advisory committees. The foundry depends on Lakeshore for workforce training, including apprenticeships, and provides generous financial support to the college.
"We are thankful for Sachin's leadership role in growing the partnership between Lakeshore Technical College and Wisconsin Aluminum Foundry for the benefit of not just these two institutions, but for the benefit of our entire Manitowoc community," said Lakeshore President Dr. Paul Carlsen.
"Wisconsin Aluminum Foundry has been a champion of technical education and Lakeshore Technical College for many years," said S. Mark Tyler, WTCS board president. "Their work with Lakeshore has provided scholarship funds, funding for manufacturing program equipment, and they have key employees serving on Advisory Committees. Additionally, they rely on Lakeshore for many forms of workforce training and they currently employ five apprentices. This is an exemplary model of how Wisconsin's technical colleges across the state work closely with the companies in their communities to provide the workforce needed to keep our economy growing."
Information about Wisconsin Aluminum Foundry can be found at wafco.com. 
Information about Lakeshore Technical College can be found at gotoltc.edu.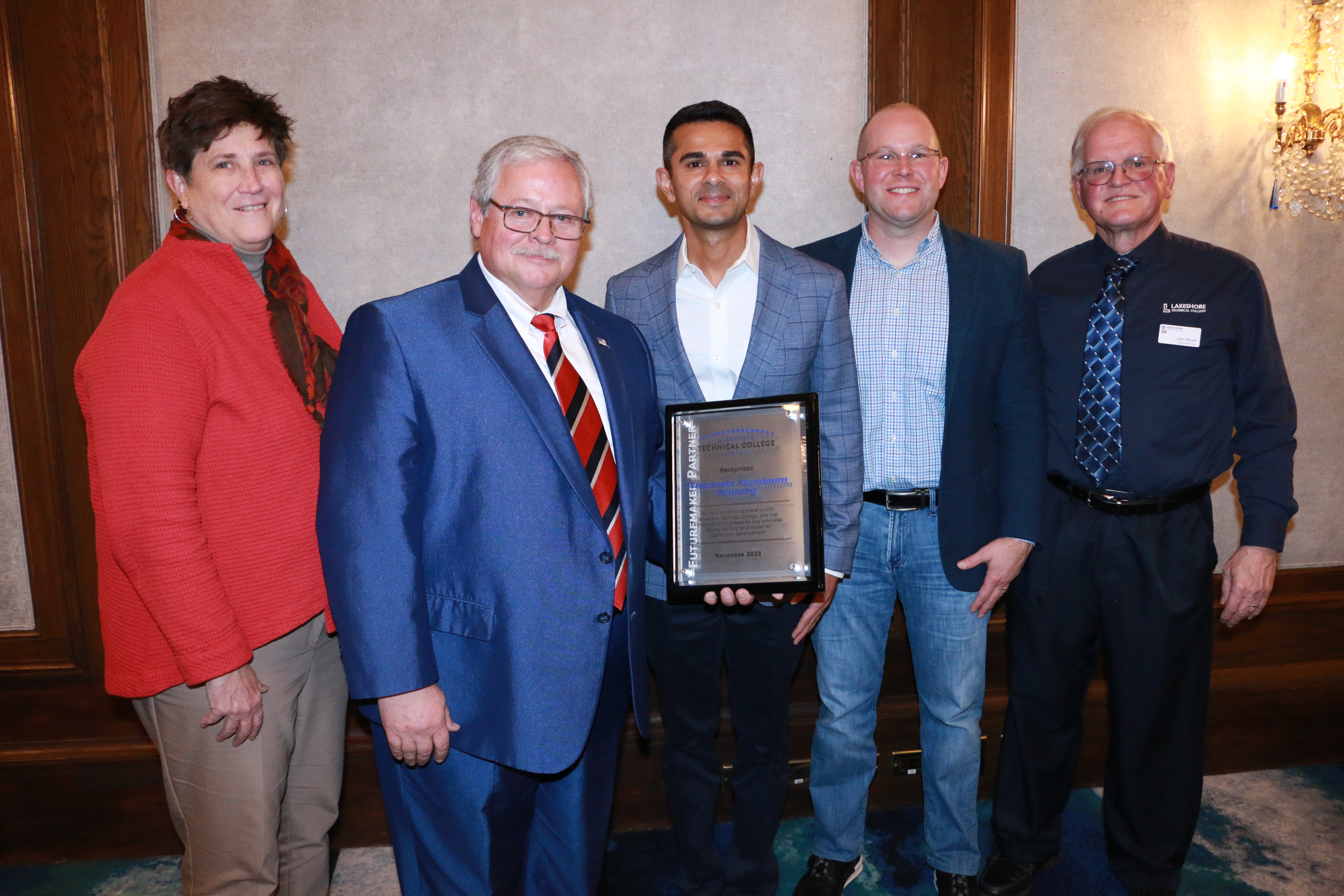 A Wisconsin Technical College System Futuremaker Partner Award was presented to Wisconsin Aluminum Foundry during a celebration held November 7. Pictured from left to right: Morna Foy, WTCS president; S. Mark Tyler, WTCS board president; Sachin Shivaram, Wisconsin Aluminum Foundry CEO; Paul Carlsen, Lakeshore Techical College president; and John Wyatt, Lakeshore Technical College board chair.
About Lakeshore Technical College
Lakeshore Technical College is a comprehensive community and technical college educating more than 9,000 students annually. Students enroll at Lakeshore to master real-world, employable career skills and start their pursuit of a bachelor's degree. Lakeshore faculty and staff are focused on providing each student an individualized learning experience.
 
Lakeshore Technical College is a nationally recognized two-year college. The college was ranked #2 in the nation by Washington Monthly, #17 in the nation by Forbes, #20 in the nation by WalletHub.com, a top-150 two-year college by the Aspen Institute, a top 10 Bellwether Award finalist four out of the last five years, and named the 2021 Large Business/Industry of the Year by the Chamber of Manitowoc County.
 
Approximately 800 students graduate from Lakeshore each year, and associate degree graduates report earning a median salary of $59,899 within six months of graduating. In addition to the Cleveland campus, Lakeshore educates students at learning campuses in downtown Manitowoc and downtown Sheboygan. Classes are also offered at additional sites throughout the district. Visit Lakeshore at gotoltc.edu. 
Contact:          Teri Sturm, Marketing Copywriter
Phone:             920.693.1144
Email:              teri.sturm@gotoltc.edu
Press Room:   gotoltc.edu/about-us/ltc-news