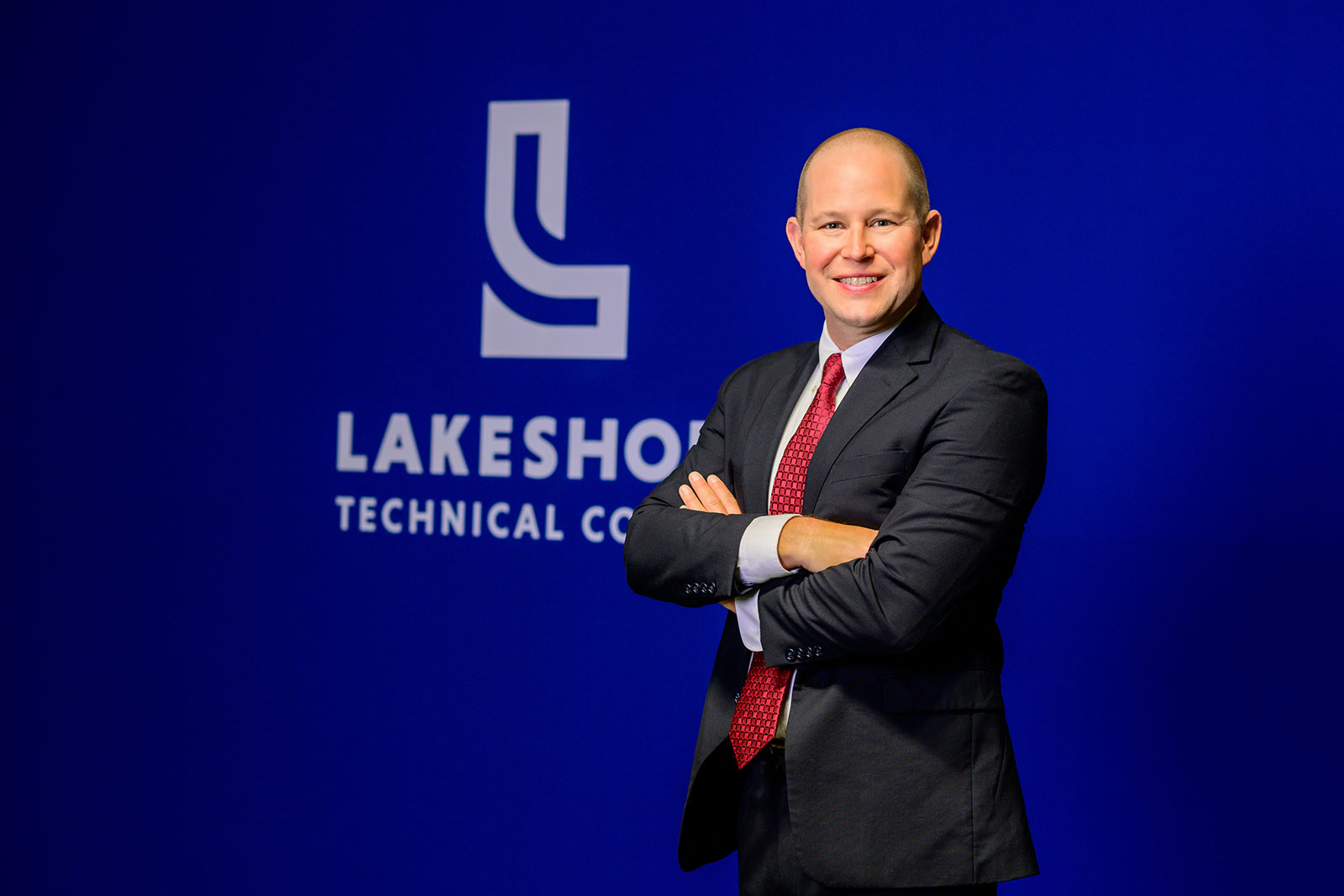 Dr. Paul Carlsen joined Lakeshore Technical College as the institution's 4th president in 2017. He leads a dedicated, student-focused team of 300+ who each make significant contributions to the transformation of the nearly 9,000 students served by the college each year.
Under Paul's leadership LTC has gained significant national recognition – Washington Monthly ranked LTC the #2 college in the nation for adult learners, Forbes ranked LTC the #17 trade school in the nation, the Aspen Institute named LTC a top 150 two-year college in the nation three times, and LTC was named a Bellwether Finalist in workforce development three times.
Throughout the COVID-19 pandemic Paul consistently rallied the faculty and staff to prioritize student learning. LTC resumed on-campus learning in April 2020 with no spread on campus, becoming one of the first colleges in Wisconsin and the country to resume in-person instruction. The college's enrollment throughout the pandemic consistently outperformed the two-year college sector nationwide.
Paul has prioritized finding new revenue sources to support the college's mission. Paul led efforts to secure more than $20,000,000 in competitive grant awards – including securing the two largest competitive grant awards in college history and the college's first two grants from the National Science Foundation (NSF). In 2022, Paul cultivated a $1,000,000 donation to the college's foundation – the largest donation in the foundation's history. Revenue from customized workforce training has increased 20% since Paul took office.
In 2020, Paul was one of 25 community college leaders selected by the Aspen Institute for the inaugural cohort of their New President Fellowship. The Fellowship was a multifaceted program to help community college presidents in the early years of their tenure accelerate transformational change on behalf of students.
Paul currently serves as the Secretary for the Wisconsin Technical College System President's Association.
Prior to joining Lakeshore Technical College, Paul served in a variety of leadership roles at the Louisiana Community and Technical College System under Dr. Monty Sullivan and was an adjunct instructor of American Government at River Parishes Community College in Ascension Parish, Louisiana. Before working in higher education, Paul worked in statewide economic development at Louisiana Economic Development under Governor Jindal's administration and the South Carolina Department of Commerce under Governor Nikki Haley's administration.
Paul holds a Bachelor of Arts from the University of Colorado, a Masters of Public Policy from the University of Denver, and a Doctorate of Philosophy from the University of Georgia.
Paul and his wife, Christina, are the proud parents to two young daughters. Paul's family enjoys traveling, watching cartoons, sledding, and new adventures.
Paul is active in a variety of local, regional, and national organizations, including:
New North

Bay Area Workforce Development Board

Sheboygan County Economic Development Corporation

The Economic Club of Sheboygan County

Northeast Wisconsin Educational Resource Alliance

Alliant Energy Plant Closing Committee

HSHS St. Nicholas Hospital Advisory Board

University of Georgia Mentor Program
Paul's peer reviewed publications include:
"The (Questionable) Importance of New York at the Constitutional Convention" with Jac Heckelman. Journal of Early American History, 7: 1-25, 2017.

"State Bloc Versus Individual Delegate Voting at the Constitutional Convention: Did it Make a Difference?" with Jac Heckelman. Southern Economic Journal, 82(3): 781-800, 2016.

"A New Dataset of Delegate Positions on all Substantive Roll Calls at the U.S. Constitutional Convention" with Keith Dougherty, Jac Heckelman, and David Gelman. Historical Methods: A Journal of Quantitative and Interdisciplinary History, 45: 135-141, 2012.
Paul's professional publications include:
"Generational Difference: Transitioning from a Baby Boomer CEO to a Millennial CEO." Association of Community College Trustees (ACCT) Trustee Quarterly, 2018. Available

here

.

"South Carolina Innovation Plan" with David Clayton and Martin Ettlemeyer. Prepared at the request of the South Carolina Knowledge Sector Council, 2013. Available

here

.

"The Economic Impact of the Military Community in South Carolina" with Lu Wang and David Clayton. Prepared at the request of the South Carolina Military Base Task Force, 2012. Available

here

. Designated a notable state document by the South Carolina State Library in 2013.
Contact President Carlsen:
Lakeshore Technical College
1290 North Avenue
Cleveland, WI 53015
1.888.GO TO LTC
Phone: 920.693.1000
Email: paul.carlsen@gotoltc.edu