Learn, Lead, Succeed provides opportunities to make life-long connections and develop professional skills that will benefit you in your academic and career pursuits. 
LEARN – Participate in opportunities to learn about yourself, employers, careers, and other related topics to prepare for a successful career.
LEAD – Take advantage of this safe space to practice and develop your analytical, problem-solving, planning, decision-making, leadership, and public speaking skills.
SUCCEED – Network with other students, learn about college resources, and work together in group settings.
View upcoming Learn, Lead, Succeed opportunities on the Current Students Calendar.
Students who attend three hours of opportunities will earn a Learn, Lead, Succeed STAND OUT Certificate which recognizes a commitment to going above and beyond to get involved, develop leadership skills and core abilities, inspire others, and prepare for the workforce.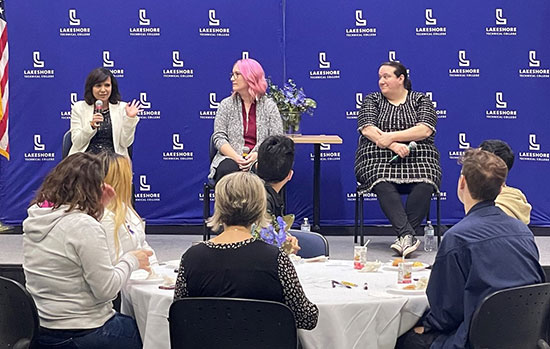 What students say about LEARN LEAD SUCCEED workshops and other activities:
"Thank you for all that you do for us. These workshops have been life changing for me!"
"It has taught me to be more involved with my program. I have learned it pays off when you are involved not only with the community, but also in your program/program-related events."
"Made me more confident in myself."
"My involvement with the Learn, Lead, Succeed workshop has taught me how to be resourceful and how I can apply the techniques used in the workshop in my daily life."
"It has improved my soft skills with the repetition. It has also made me more comfortable communicating in front of a group."