Counseling Office
Kristi Irving

LTC Counselor
Counseling services are available on campus to assist students in dealing with issues that can impact their overall well-being. Your counselor understands that there are pressures and challenges to be faced throughout a student's academic career and that these can contribute to heavy amounts of stress, and sometimes even crisis. Working with a counselor during these times can be beneficial in the following ways:
Linking students to school and community resources
Helping students identify strengths and sources of support
Offering a different perspective
Assisting students in improving problem solving and coping skills
Providing a safe place to talk and have someone who will listen
If it is in the best interest of the student, the counselor may refer students to community mental health professionals and outside resources.
If you are looking for information and resource referral for yourself or a friend, check out this web site: www.ulifeline.org
For after hours emergencies, contact the National Suicide Prevention Lifeline at 1-800-273-TALK to speak with a trained professional and get connected to a mental health provider in your area. It's available 24 hours a day nationwide.
You can also dial 911 or go to the nearest emergency room.
OR
Please call 920.693.1109, or stop by the Student Services Registration Desk located in the Lakeshore Building.
Lakeshore Technical College Statement of Confidentiality
Personal information that you share with a counselor is confidential unless you give permission to share it with others. The only exceptions to this policy are when it involves potential harm to self or others, when the safety of a child is at risk, or when it is requested by a court order.
Internet Resources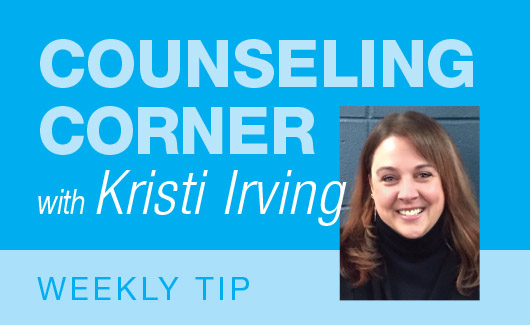 Are you grieving? With COVID-19 and the amount of racial injustices occurring finally being brought to light, many of us are experiencing intense emotions.
Whether we feel sad anxious, angry, on edge, or fearful …
Whether we feel a loss of our sense of normalcy, or of our comfort in the world …
It's important to acknowledge that this could be grief. Grief can take many forms and is likely to feel outside of our control. Once we acknowledge it, we are in a better position to manage the emotions it can trigger.
Self-care is NOT selfish, it's SMART.
Imagine being dehydrated and giving someone the last bottle of water you have. This might be kind, but now puts you at risk.
Why not drink the water, rehydrate, then use that energy to find more water. This way you stay okay and are now in a better position to help not just one person, but several.
Are your kids struggling with all the time at home?
Experts recommend planning their day, even if on break. Getting a whiteboard, or a family schedule where everyone can see what is going on for the day can be helpful.
Also, kids do better with choices, so give them some solid ideas to select their activity for the day. If you have more than one child, let them take turns selecting activities, or allow each their own. This can help cut down on arguments and complaining!
Resiliency means having the tools and ability to cope when things get tough and still be able to see what's good.
If you are overall physically healthy, your body has enough immunity to fight off germs, so you are more likely to bounce back from the flu or a cold, meaning you might not get as sick or stay sick for as long. If you have overall good mental health, you are more likely to bounce back when facing stress, trauma or adversity.
Since resiliency is a skill, even if you don't think you have it, you can develop it!
Relationship tip: If you are in a disagreement with your partner and find that intense emotions have been triggered, causing you to want to blow up at them, melt it!
Grab a piece of ice and hold it in your hand until it melts.
The cold sensation will keep you grounded in the here and now, and allowing the ice to melt gives you time for those emotions to calm so you are in a better position to resume a productive disagreement instead of it escalating.
Mental fitness is as important as physical fitness.
Just like you can't bench press 300 pounds without starting lighter and consistently building your muscles, the same goes with mental fitness. Building emotional "muscles" by making small, positive changes, repeated and practiced, will yield big results.