Grace DeBruin: Published Illustrator, Business Owner, Student
This energetic 20-year-old student knows no limits.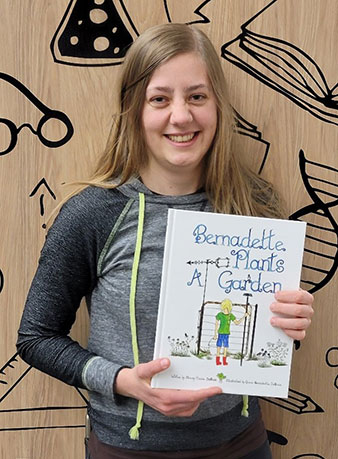 The book Bernadette Plants A Garden was illustrated by Grace DeBruin.
"Published illustrator" and "business owner" are accomplishments one typically would not be surprised to see on the resume of a successful individual in their 30s or older. It is surprising to see such accomplishments on the resume of a 20-year-old college student.
Grace DeBruin, a Graphic & Web Design program student at Lakeshore Technical College, began the process of illustrating Bernadette Plants a Garden, a story her mother wrote, at age 12. They published the book on their own in 2021, when Grace was 18. In between those years, Grace started Bernadette & Bear, a screen-printing business still in operation today, in her parents' garage. Such endeavors make it easy to see why Grace chose a career in the arts.
As a home-schooled student, Grace says she was encouraged to explore and educate herself in topics she enjoyed. "I completely believe I would be entirely different if I hadn't been home-schooled and allowed to explore the arts and other subjects I enjoy," says Grace. "For me, the arts were always something I knew I wanted as a part of my life."
The Path to Illustrating
The basement was a creative space for the DeBruin family of New Holstein. It was where the family created and bound their book consisting of poems and stories written by friends and family, including Bernadette Plants a Garden. Grace's mom, Stacey, modeled the story after young Grace, whose middle name is Bernadette. That first book didn't have any illustrations though Grace loved drawing and thought it would be "so incredibly cool" to illustrate it.
The process took much longer than Grace anticipated. Her early illustrations were not up to book standards. She would get discouraged at times with her failures, though her parents always encouraged her to keep trying. Over the years she tried drawing in different styles with different materials. When she was around 17, she says something "finally seemed to click." She had discovered her love for drawing with pencil and watercoloring her illustrations in. 
"After that, it went fairly quickly, and I was able to draw my pictures with very little revisions and I was so happy that my dream of being an illustrator finally was seeming realistic!" Grace says with pride. "It was such an incredible experience when I held the finished book and could page through something real that I had a hand in creating!" 
The Path to Business Owner
Bernadette & Bear is another result of Grace's exploration of the arts. It started as a screen-printing business in 2021 and has grown into, as Grace describes it, "more of an all things graphic design" business. She enjoys growing her skillset through her business and college courses, oftentimes learning something in school that she applies outside of school shortly after. 
"I still love screen-printing clothing for people as one of my favorite things, but I also really enjoy when I can hand draw something for someone that is entirely unique, or make and design something cool, or even work with photos and videos on occasion," says Grace.
Learning at Lakeshore
As a teenager, Grace began experimenting with more styles of drawing. She says she chose to focus on graphic arts and web design because she always wanted to turn artwork, especially her own, into something she could produce, print, or develop into something she could share with others. 
Grace knew she wanted to learn in person somewhere she could become part of a community and make new friends. "For me, LTC offered those things," she says. "I loved the feel of the campus overall, and I have met so many fabulous people in the nearly two years I've attended school here. After looking into different graphics programs, LTC's program and the skills it had to offer won me over."
"My instructors, especially Brenda Blum and Sarah Bornemann, have been absolutely amazing – they are very skilled and talented in what they do, and I have learned so much from them. They have made my experience at LTC better than I ever could have thought."
Another campus highlight for Grace is her membership in the Makers Club, a new student club she joined shortly after it started. "I have learned a lot about things like 3D printing, laser cutting, injection molding, and more," she says. Grace has had a lot of fun while making good friends in the club. She appreciates Mechanical Design and Fabrication Lab Specialist Jon Pelland's patience and willingness to teach, show, and explain to her and other club members how the equipment they're learning to use works.
Grace is also a member of Lakeshore's Phi Theta Kappa Honor Society and InterVarsity Christian Fellowship.
Advice for Budding Designers
Grace's advice to someone considering a career in graphic and web design: "Just try it – you may not be sure it's what you want, and it's okay if it's not. Trying to develop a skill further to see if you want it to be a bigger part of your future will very rarely be something you regret." 
With so many different skills encompassed within the field, from coding websites to videography to designing magazine layouts to packaging, Grace believes there is a very good chance someone could find they love something they never before considered.
A Blossoming Future Awaits
Grace will graduate in May. She says she's excited to take all she has learned and apply it within her own business. She may also look for a job to gain experience while growing her business. It's also possible she may further her education someday. She may illustrate future books. "I like to keep my options open," says Grace.
One thing is certain: Grace DeBruin is a young, accomplished illustrator and business owner who sees no limits ahead of her. And we look forward to watching her grow, just like the vegetables and flowers she illustrated in Bernadette Plants a Garden did.
For information about Lakeshore Technical College's Graphic & Web Design program, visit gotoltc.edu/programs-and-courses/degree-programs.