Coursework That Fits Around Busy Lives Makes Earning a College Degree Possible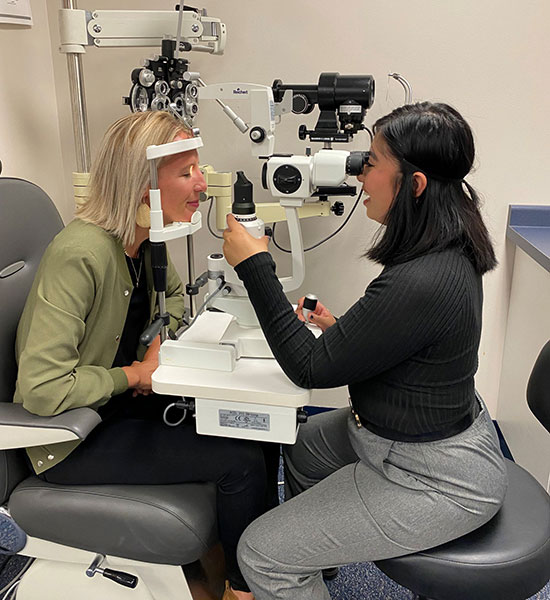 While a student, Jessika Mata, right, practiced skills she needed to master through instruction from Dr. Cori Wicklund, left, Lakeshore Technical College's Ophthalmic Medical Assistant Instructor.
 
Competency-based education provides increased scheduling flexibility.
If the ophthalmic medical assistant program was not being delivered through Lakeshore Technical College's competency-based education (CBE) model, recent program graduate Jessika Mata would not have succeeded like she did. The delivery model offered Jessika the flexibility she needed to enroll and stay in college.
"I feel very blessed the ophthalmic program is CBE. Though school is stressful on its own, it's so great that I got to learn at my own pace and not feel rushed," says Jessika, who spends a lot of her time taking care of family. She also manages social media and teaches children's ministry for her church. She wanted to continue doing those things and go to college, but the rigid, inflexible structure of a traditional semester where students learn at a pace dictated by the academic calendar made that difficult.
Jessika also hit a rough patch filled with family health issues that might otherwise have caused her to drop out of college during her second semester. Because of the assistance and support offered by her instructor and advisor, she was able to find classes and continue moving forward in her program during that difficult time. 
The CBE learning model is also appreciated by faculty. "What I love most about CBE is we have the ability to meet students where they are in life. We can speed things up or slow things down like we did with Jessika. Students can receive instruction virtually, online, face-to-face, or a combination of all three," says Lakeshore Ophthalmic Medical Assistant Instructor Dr. Cori Wicklund.
Jessika's Path to a Career In Eye Care
Due to health issues experienced prior to enrolling at Lakeshore, Jessika was unemployed other than driving for Door Dash at times. Her husband encouraged her to go back to school, but nothing sparked her interest until going with him to an appointment to get his glasses repaired. Mata, who also wears glasses, realized while waiting that she always had great experiences going to the eye doctor. It was then she decided to explore a career in eye care. She found the Ophthalmic Medical Assistant program nearby at Lakeshore Technical College. 
Lakeshore shifted the Ophthalmic Medical Assistant program from a rigid, traditional semester structure where all students were forced to learn at the same pace to CBE in June 2021. Jessika had her choice of multiple start dates and chose August that year. Students can start programs delivered in the CBE model almost any month of the year rather than only at the beginning of a semester, as is the case for programs delivered in traditional ways. Before moving to CBE, students could only start in the Ophthalmic Medical Assistant program in August or January.
CBE Provides Greater Flexibility
"CBE provides individualized, flexible learning that allows us to impact more learners and make a greater impact on the quality of healthcare in our communities," says Wicklund.
CBE focuses on knowledge and competence rather than time spent in classrooms. Because students demonstrate mastery of skills and knowledge when they are ready, they have the flexibility to move through coursework at their own pace. Students also have flexibility as to when they study and practice skills, so they can schedule coursework around their work and family commitments. 
The increased flexibility not only provides busy individuals the opportunity to attend college, but also allows them to complete courses sooner than courses offered in traditional formats with specific start and end dates. If needed, CBE students can also take more time to master competencies. 
Putting Learning Into Action
Jessika says she loved the hands-on portion of her program and enjoyed taking things home to practice on her family and friends, who were very cooperative. She also liked putting her education into action while working as an optician at 20/20 Visions in Plymouth, where she continues to enjoy styling patients in fun frames. 
"I can tell in my work environment how much having this background education means not only to the doctors but to the opticians and technicians," says Jessika.
Jessika's enthusiasm for the program and CBE drew interest from her sister, Genesis Mata. Jessika brought Genesis to Lakeshore's Cleveland campus to meet Dr. Wicklund and see hands-on classroom activities. Genesis liked what she saw and how she could fit it around her schedule. She began the program in January.
Lakeshore currently offers seven programs in the CBE model and plans to continue adding more each year. For information about the Ophthalmic Medical Assistant program or any other programs, visit gotoltc.edu/programs-and-courses.