Sandra Hyer Wants to Spread the Word About "This Amazing Opportunity to Learn and Grow"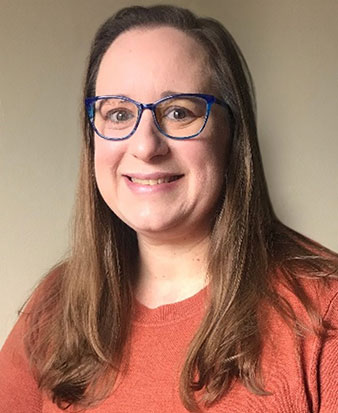 Sandra Hyer is Lakeshore Technical College's Wisconsin Technical College System Ambassador for the 2023-2024 academic year.
As Lakeshore's new Ambassador, Sandra wants to inspire other non-traditional students to pursue a college degree.
"When my children were young, I did not return to school due to the lack of knowledge that the funding and support is there. I simply did not know of all the resources. My story will encourage others to reach out sooner than later like I did," says Lakeshore Technical College student Sandra Hyer. 
Sandra, a Nursing-Associate Degree program student living in Plymouth, has been selected to serve as Lakeshore's Wisconsin Technical College System Ambassador for the 2023-2024 academic year. 
Each of the 16 colleges in the WTCS chooses one student each spring to serve as Ambassador. Ambassadors promote their colleges on campus, in the community, among legislators, and at system events focusing on student recruitment. They also receive a $1,250 scholarship.
"As an ambassador, I look forward to spreading the word about this amazing opportunity to learn and grow," says Sandra, a non-traditional student and single parent who believes her personal experience can encourage other non-traditional students to pursue a college degree. 
Sandra's Path to Lakeshore
Sandra first came to Lakeshore in 1996 after realizing the private four-year college she had been attending was not the best fit for her. She switched career paths a few times, though after becoming a Certified Nursing Assistant (CNA) in 2009, she knew she wanted to pursue advanced nursing opportunities. While attending Lakeshore part-time, Sandra continues working part-time as a CNA, gaining valuable direct patient care experience. 
 
"Lakeshore is the best option for a nursing degree because the teachers want us to succeed. There is a great academic support team that helps when a student needs it. Instructors do a fantastic job at making their help aware to us students," says Sandra. "I would encourage anyone, especially future nurses, to attend Lakeshore because of the great program and future facility we will soon have."
Sandra is referring to the new Center for Health Care Excellence breaking ground on our Cleveland campus this spring. The 16,000 square foot addition and remodel to our existing Lakeshore building will benefit 1,500 in-demand health care and emergency services students and professionals who will train annually in the new facility.
Staffing, Affordability, and Transfer Opportunities Were Deciding Factors
In her application for the Ambassador program, Sandra says she chose to attend Lakeshore because of the friendly, supportive, and diverse staff. "Additionally, the affordable tuition, the availability of financial aid, and the abundance of scholarship opportunities makes Lakeshore Technical College the right choice for me," says the mother of three children ages 16, 20, and 22.
It was important for Sandra to earn a degree without any debt and thanks to financial aid and scholarships, she expects to achieve that goal here at Lakeshore. She also found our location to be more convenient than other options she looked into and she enjoys the natural peaceful beauty our wooded campus, stream, and wildlife offer.
Sandra appreciates the great effort Lakeshore invests into making credits transferable both for herself and other students. "I love the fact anyone can attend the first two years of college for such a small cost and then obtain their bachelor's degree, if they need or want to, for much less," she says. 
Growth Opportunities & Support Services Fuel Success
Sandra was taking advantage of opportunities for all students to learn and grow even before her selection as Ambassador. She is a Student Leadership Board Executive Member and Stand Out Certificate recipient for attending Learn, Lead, Succeed professional development programs. Sandra is a member of TRIO Student Support Services, a federally-funded program that helps first generation, lower income, and disabled students navigate their way through college. Sandra's parents did not attend college, which makes her a first generation college student.
In addition to Lakeshore's TRIO support staff members, who Sandra says have been "instrumental" to her success, she has benefited from our academic support staff. "They have helped me study for tests and clarified things that I was simply not understanding otherwise." 
Sandra is like many adults who experience a winding path to a satisfying career, eventually discovering Lakeshore Technical College can help them get where they want to be.  We are proud to be part of Sandra's journey and look forward to seeing her succeed academically and professionally.
For information about Lakeshore Technical College's Nursing-Associate Degree and other nursing program options, visit gotoltc.edu/programs-and-courses/degree-programs.