You're ready to take the next step! Orientation and Crush IT Learning sessions are required, vital steps in ensuring your smooth transition to college life. Learn about tools and resources available to prepare you for your first day of classes.
During the Virtual College Orientation, you will:

Learn about campus resources to help you succeed.
Gain knowledge about college processes and expectations.
Clarify options to pay for college.
During the two 30 minute Crush IT sessions, you will:

Get an overview of the key student technologies such as logging into your classes on Blackboard and other applications.
Learn about commonly used streaming tools to join your classes virtually, meet with staff, or collaborate with your instructors and other students.
The deadline to RSVP is Monday, January 18. If you have questions about the registration process or sessions, feel free to email Kristen Rollmann at >kristen.rollmann@gotoltc.edu or call at 920-693-1835.
---
Learn more about LTC's Services and Resources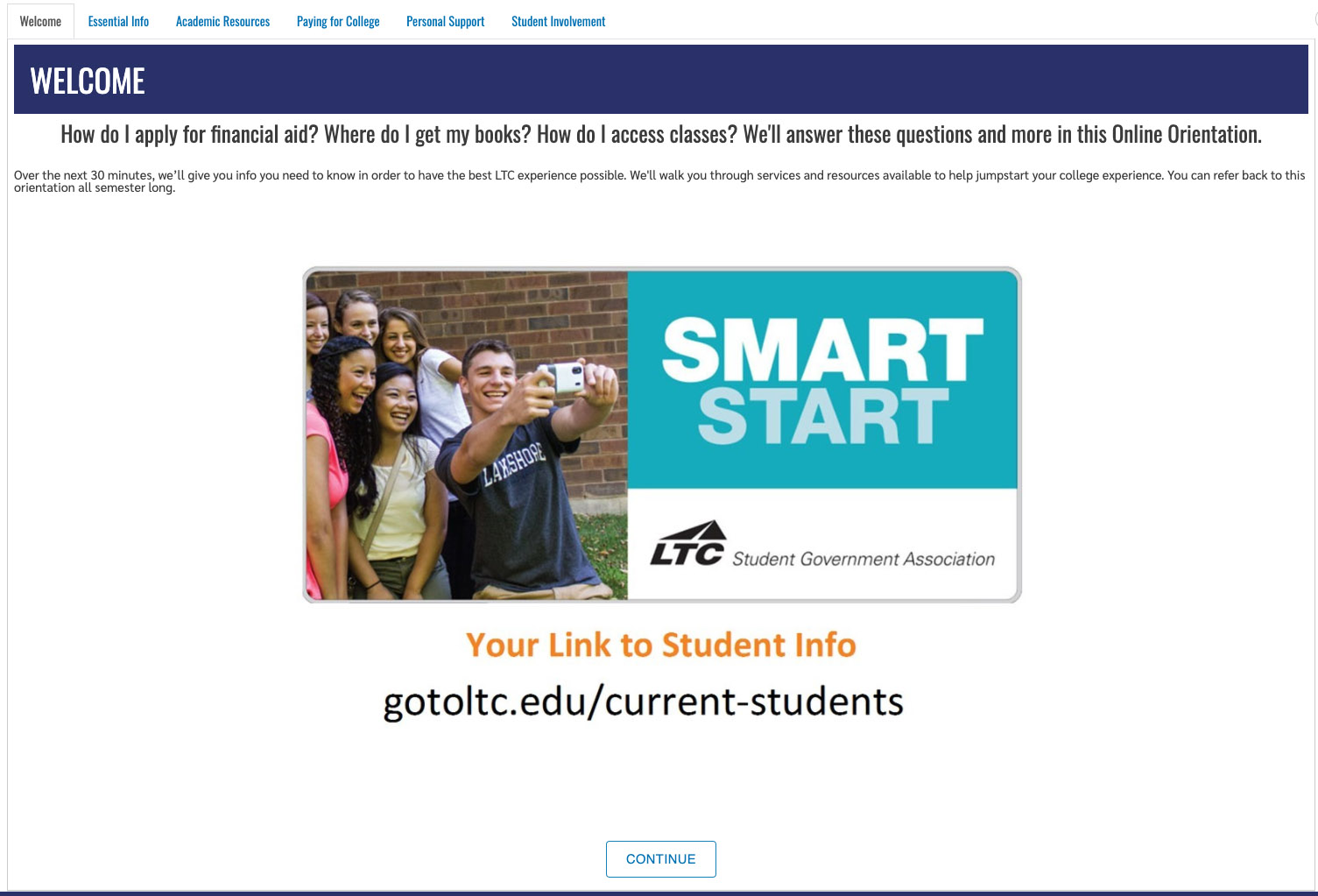 If you are a distance student or are unable to attend the in-person orientation, complete our Online Orientation. You still learn about important information, like what technologies you'll use as a student (ex. Email, MyLTC, Blackboard), academic resources, student involvement opportunities, ways to pay for college, and other personal support services available to help you succeed here at LTC. Answer the "Check Your Understanding" questions at the end to recieve credit for completing.
Frequently Asked Questions (FAQs)
How long is Orientation?

College Orientation is 1 hour and 15 minutes. Program Orientations are typically an additional 1.5 hours. 

Who should attend Orientation?

Students who are new to LTC, newly accepted into an LTC Program, or students who haven't attended LTC classes in 3 semesters are invited to attend orientation. If you feel that this is you, please register to attend!

Is Orientation Required?

Attending Orientation is highly recommended; you'll meet your instructors and learn about resources to help make your first couple of days in school easier.

What is the difference between the Virtual College Orientation and Program Orientation?

The Virtual College Orientation provides general college information appropriate for all students. Program Orientations are scheduled by faculty and provide specific program information and opportunities for students to meet their faculty. Not all programs offer a Program Orientation. 

Can I bring a guest, spouse, or a parent?

No, due to the Pandemic, we ask that only students attend.

Will there be food?

Programs holding a longer Program Orientation may have a light lunch or pre-packaged snacks available. 

If I haven't picked a program yet, or just taking classes, should I attend?

Yes, definitely. Many students choose to attend Orientation to further explore their opportunities and hear more about the program they are considering at the program orientation.

What if I'm not able to attend any of the sessions?

If you are not able to attend any of the College Orientations and the Crush IT sessions, please email kristen.rollmann@gotoltc.edu to let her know why. We are always looking for ways to improve access to students.
Questions regarding Orientation?
Contact kristen.rollmann@gotoltc.edu
Or call 920.693.1835 to reschedule or cancel
Resources from Orientation: