Culinary Arts Education Tuition Reimbursed by Kohler Co. Hospitality and Real Estate
Lakeshore Technical College student appreciates the opportunity offered by the premier restaurant group.
 
FOR IMMEDIATE RELEASE
4/06/2021
CLEVELAND, WI —
After hearing many positive comments from her Lakeshore Technical College classmates who work at Kohler Co. Hospitality and Real Estate restaurants, Lakeshore Culinary Arts student Heather Goodman says she did not want to waste an opportunity presented to her in the summer of 2020. "Applying for this program is one of the best things I have ever done," Goodman says about the new Kohler-sponsored tuition reimbursement program she was accepted into starting in the fall of 2020.  
As part of the program agreement, students will have a paid work opportunity at a Kohler Hospitality and Real Estate property for 20 hours per week and receive up to 100 percent tuition reimbursement for courses completed while enrolled in Lakeshore's Culinary Arts associate degree program. 
Goodman works as a breakfast cook at Leaps & Bounds Café in LODGE KOHLER, located in Green Bay's Titletown District. She says she enjoys the kitchen environment, prepping, cooking new recipes, the people she works with, and the support she is given. "Cooking is my happy place, and I am enjoying everything about working at Leaps & Bounds," says Goodman, who set aside a career in the medical field to pursue a culinary career. 
Pursuing a new career involves juggling family, work, and college. Goodman is married and has two sons, ages 11 and 15. The family moved from California to Wisconsin in 2018 to enjoy what Goodman calls "safer, small town country living" for her family. They live in Oconto, 30 minutes north of Green Bay.
According to Goodman, she looked into different culinary programs and chose Lakeshore because of the location and affordability. She started at Lakeshore in January 2020, before the new tuition reimbursement program launched. Goodman says she saw the tuition reimbursement component of the new program as a great opportunity and the paid work as a bonus. She attends classes on the college's Cleveland campus, in its newly constructed commercial kitchen custom-designed for educational purposes. If her coursework and cooking job continue going well, she will have all but one semester of tuition covered by Kohler. 
"My husband and I feel great knowing I am guaranteed a job after leaving college, and I will be using my degree right away," says Goodman, who expects to graduate in May 2022. "I would tell anyone who is passionate about a culinary career to go for it and consider this tuition reimbursement with paid work opportunity."
Up to 10 students per year are accepted into the Kohler tuition reimbursement program. Details on the application process and Lakeshore's Culinary Arts program can be found at gotoltc.edu/culinary-arts.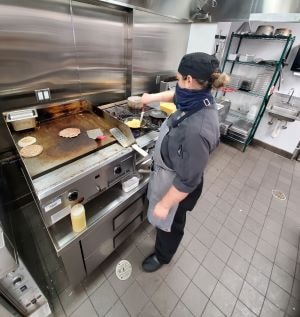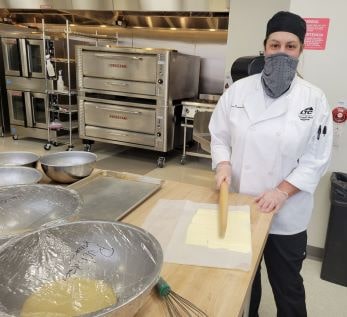 LEFT: Lakeshore Technical College Culinary Arts student Heather Goodman puts her skills to work as a breakfast cook at Leaps & Bounds Café in LODGE KOHLER.
RIGHT: Goodman prepares croissant dough during class in the college's baking lab.
About Lakeshore Technical College
Each year more than 10,000 people enroll in courses at Lakeshore Technical College. They rely on LTC for job preparation, to earn a degree, upgrade a specialized skill, train as an apprentice, or seek a high school equivalency. LTC faculty and staff meet students where they are in life and help them get one step closer to achieving their goals.
LTC is a nationally recognized technical college. The college was ranked the #2 two-year college in the nation for adult learners by Washington Monthly, #20 in the nation for two-year college educational outcomes by WalletHub.com, a top-150 two-year college for the fifth consecutive time by the Aspen Institute, and a top 10 Bellwether Award finalist for two consecutive years.
Approximately 800 students graduate from LTC each year, and LTC's associate degree graduates earn a median salary of $52,000 per year. In addition to the Cleveland campus, LTC serves students in Manitowoc and Sheboygan, and offers classes at additional sites throughout the district. Visit LTC at gotoltc.edu.