Lakeshore Technical College Hosting "Explore Energy Careers for Females" to Open Doors to Higher Paying Careers
FOR IMMEDIATE RELEASE
9/07/2022
CLEVELAND, WI —
Lakeshore Technical College is hosting "Explore Energy Careers for Females" on Wednesday, September 21, 9 a.m. – 12:15 p.m., on its Cleveland campus. The career exploration event will focus on opportunities for females in the wind and solar industries, as well as the heating, ventilation, and air conditioning industry.
Hands-on activities will include building and testing a small model wind turbine, examining solar panel positions and output, inspecting components of a home heating and cooling system, and identifying home energy efficiencies.
Lakeshore is offering this event to help promote gender balance in the growing renewable energy sector. For example, according to an International Renewable Energy Agency survey, women represent only 21% of the wind energy workforce and only 8% of its senior management. Motivating more women to take interest in wind energy could help fill positions such as wind turbine service technicians, a job the Bureau of Labor Statistics has projected the need for to increase by 68% between 2020-2030. 
Annual median starting salaries for graduates of Lakeshore's renewable energy related programs can be as high as $53,120 for wind energy technology graduates.
Lakeshore presenters for the event include Justin Barrett, wind energy technology instructor, and Steve Sorenson, HVAC instructor. Both bring years of field experience to their instruction roles. Admissions representatives will also be available to answer questions about programs, applying, and how to pay for college.
For information on Lakeshore's programs related to careers in renewable energy, or to register for the event, visit gotoltc.edu/explore-energy.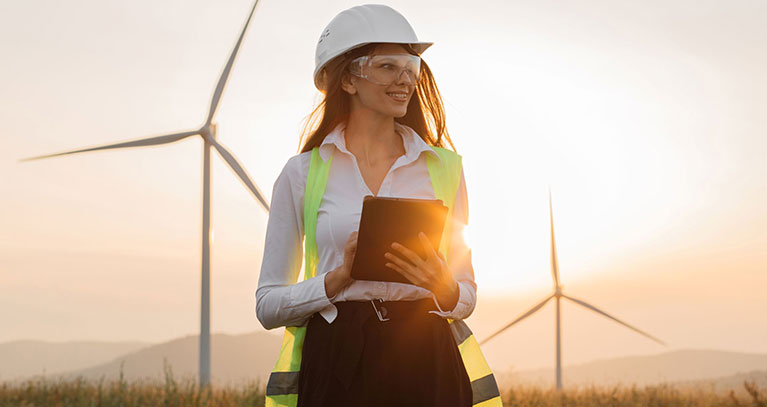 About Lakeshore Technical College
Each year more than 8,000 people enroll in courses at Lakeshore Technical College. They rely on Lakeshore for job preparation, to earn a degree, upgrade a specialized skill, train as an apprentice, or seek a high school equivalency. Lakeshore faculty and staff meet students where they are in life and help them get one step closer to achieving their goals. 
Lakeshore Technical College is a nationally recognized technical college. The college was ranked the #2 two-year college in the nation for adult learners by Washington Monthly, #20 in the nation for two-year college educational outcomes by WalletHub.com, a top-150 two-year college by the Aspen Institute, a top 10 Bellwether Award finalist three out of the last four years, and the 2021 Large Business/Industry of the Year by the Chamber of Manitowoc County.
Approximately 800 students graduate from Lakeshore Technical College each year, and associate degree graduates earn a median salary of $54,048 per year. In addition to the Cleveland campus, Lakeshore serves students in Manitowoc and Sheboygan, and offers classes at additional sites throughout the district. Visit Lakeshore at gotoltc.edu gotoltc.edu.