Starting College Close to Home Can Help Launch a Nursing Career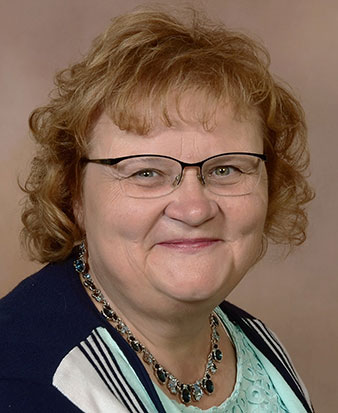 Donna Mayer, an Advanced Practice Nurse Prescriber (APNP) at Aurora Medical Center - Sheboygan County, began her nursing education at Lakeshore Technical College while raising her family and working on her family's farm.
"Having everything close to home made getting my degree possible."
The path to an accomplished healthcare career was not easy for Donna Mayer, an Advanced Practice Nurse Prescriber (APNP) working in obstetrics and gynecology at Aurora Medical Center - Sheboygan County. Donna began in the nursing program at Lakeshore Technical College while also raising four children, helping her husband on the family farm, and working off the farm at a part-time job. The ability to begin her education close to home was a game-changer for her. 
"Nursing opened up my world and I believe I would not be a nurse today if it weren't for Lakeshore being so close to home," says Donna. "I'd be in the barn by 5 am, come back to the house to shower, and then go to school and clinicals. Having everything close to home made getting my degree possible."
Attending college impacted her family in a positive way.
According to Donna, her family saw how hard she worked to juggle all her responsibilities and though her children were young – all under the age of 8 – they supported her. 
"The college really changed my life and my family's life. I think it's possible my children might not have gone to college if I hadn't gone to Lakeshore," she said.  Three of her five children – she had her fifth after graduating – followed her into the healthcare industry and became physician assistants.
Donna did not have a college-educated parent to look up to. She grew up on a farm in the Osman area and wanted to attend college, though says her father was on the traditional side and preferred she get what he referred to as a "real job." She took enough dual-credit medical terminology courses while at Kiel High School to get a job as a medical transcriptionist when she graduated in 1977. 
"Working in that supportive environment probably planted a seed that I could be doing more and definitely strengthened my commitment to healthcare," says Donna, who added her role of farm wife after getting married in 1982. 
That seed grew a few years later when Donna spent eight days at St. Mary's Hospital Burn Center in Milwaukee with her 15-month-old son who accidentally got burned at a family Christmas gathering. One night while comforting him during a dressing change, a nurse told her she would make a good nurse. "That may have been the biggest catalyst to my returning to school. I so wanted something positive to come out of my son Nicholas' tragic burns. I applied to Lakeshore later that year," says Donna.
Donna started at Lakeshore in 1990. She excelled in her coursework and clinical experiences, graduating with high honors in December 1993. Donna was a member of the last group of nursing students in Wisconsin to take the National Council Licensure Examination (NCLEX) written exam in person, with hundreds of others. She passed her exam and began working as a registered nurse (RN) at St. Nicholas Hospital, later moving to Aurora Sheboygan Memorial Medical Center where she worked in labor and delivery. 
An advanced degree leads to more opportunities.
Having an interest in teaching, Donna knew she needed an advanced degree so began working toward her bachelor's degree in nursing at Concordia University Wisconsin. When anyone would question her time away from her growing family, she says she would tell them, "Some people bowl one night a week, I go to school." She earned both her bachelor's and master's degrees from Concordia and served as an adjunct faculty member there and at Lakeshore for many years. 
Donna currently sees patients three days a week and serves as the Aurora Medical Center - Sheboygan County program coordinator for Resolve Through Sharing, a comprehensive bereavement program for families who have experienced a miscarriage, stillbirth, or neonatal death.
Learning today at Lakeshore: high-tech equipment and plentiful support.
Education has come a long way since Donna started her path to nursing at Lakeshore, which she calls the "gateway" to her nurse practitioner role. Today, students at Lakeshore learn by using high-tech tools including an anatomage table – the most technologically advanced 3D anatomy virtual dissection system available. They also look forward to learning in our new state-of-the-art Center for Health Care Excellence expected to open in the fall of 2024. Groundbreaking will take place this spring on the 16,000 square foot addition and remodel to our current learning facility. 
One thing has not changed: Earning a nursing degree is still possible for busy adults.
Earning a nursing degree may not be an easy path, though starting close to home can help make it feasible. Every newly enrolled nursing student provides hope for the healthcare industry as it continues facing a nursing shortage worsened by COVID-19.
For details on Lakeshore's Nursing-Associate Degree program, which prepares students for a career as an RN, visit gotoltc.edu/nursing. You can also learn about the multiple academic, financial, personal, and other resources available to support full- and part-time students by visiting gotoltc.edu/current-students.