Public Safety Training Center
Lakeshore Technical College serves as a regional training center providing comprehensive educational programs, courses, and services related to safety, security, emergency response, emergency management and Homeland Security. Lakeshore, a member of the Wisconsin Technical College System, offers degree/diploma programs, flexible learning options, and other educational services through the Public Safety Training Center. The center consists of a 29,800 square foot facility with lecture hall and classrooms; three indoor arenas; an ITV classroom; and a fully functioning Emergency Operations Center. The 15-acre outdoor arena is equipped with 17 specific simulator training stations that include a two-story computerized search and rescue building used for hands on emergency response and fire training. The training center provides students an opportunity to apply and analyze their training in real world situations.
Short-term training can be offered off campus at the worksite in a customized format.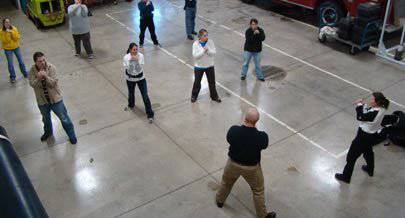 Public Safety Training Center serves:
First responders
Government officials
Emergency management staff
Business & industry customers
Private Citizens
Degree Programs
Certificates